The Plot
Everybody knows the story of Beauty and the Beast, right? It's a story that's been told in various forms since its initial publication as a fairy story in 1740. The gist of it? Beautiful girl is taken captive by a man-beast creature in an enchanted castle. Turns out, the beast is actually a conceited and superficial prince who has been turned into the repellent creature by an enchantress taking umbrage at his shallowness. Only falling in reciprocated love for real can break the spell. That's the popular version cinema audiences know, at any rate. And this latest version of the French fairytale bases itself around that – it's a remake of Hollywood's traditionally animated smash from 1991.
Updating a Classic
Remaking an Oscar-winning classic can't be an easy job. Granted, the Oscars that the cartoon version of Beauty and the Beast ended up winning were for its music, but it made history at the 1992 ceremony as the first ever animated film to get a nod in the Best Picture category. Only three animated pictures to date have achieved that feat. Those are some big shoes to fill.
But the Bill Condon-directed live-action version succeeds in surpassing its predecessor, updating all the right bits of the production – from story and themes to design – to create a film that's not only gorgeous to look at, but also relevant to today's more sophisticated audiences. Audiences that have since absorbed the game-changing CGI films of Pixar and Dreamworks, and who have experienced 25 or so additional years of conversation around the representation of women and minorities in cinema.
Drawing inspiration from both the original story and Jean Cocteau's 1946 French-language screen adaptation, Condon assembles a film that makes more sense, is more lavish and has more depth than Disney's original animation. It's more fun too, as it happens.
As Disney progresses with its live-action remakes of its own animated back catalogue, it seems the studio is learning lessons. While Cinderella looked lovely, it lacked the key elements that this new Beauty and the Beast has built to elevate it above the original and make a film with resonance.
A Charismatic Double Act
Where the story felt rushed in parts of the 1991 version, the 2017 version fills in gaps and spends time expanding sketchily realised parts. For instance, the characters of Gaston (Luke Evans) and Le Fou (Josh Gad) are made to feel more real, with the hint of a gay subplot woven in. They're more extrovert and entertaining – and simultaneously odious and panto-villain loveable, too.
Both Belle (Emma Watson) and Beast (Dan Stevens) are given back stories which help to build sympathy, explain motivations and legitimise their romance – all critical tools in making this a more convincing and multi-layered re-telling.
The Menken Touch
Crucially, Alan Menken returns on music duty. The success of the 1991 film is largely down to its iconic songs. With Menken having secured two Oscars for his original compositions, it makes absolute sense to sign up the legendary composer for the live action version. The remit? To update the existing music and write some entirely new compositions. And it's fair to say Menken has bested his Oscar-winning work, brought to vivid life by a group of actors who relish the opportunity to belt out these popular show tunes on camera (albeit recorded in a studio first).
The film blends the theatricality of a stage musical with the benefits of the medium of modern film to make a definitive musical adaptation. Every frame is paid loving attention, every major character is fleshed out and every performance is carefully measured without stripping away the actors' inclination to have fun with their roles. Even the special effects blend seamlessly – the animation of the household objects is pretty breathtaking.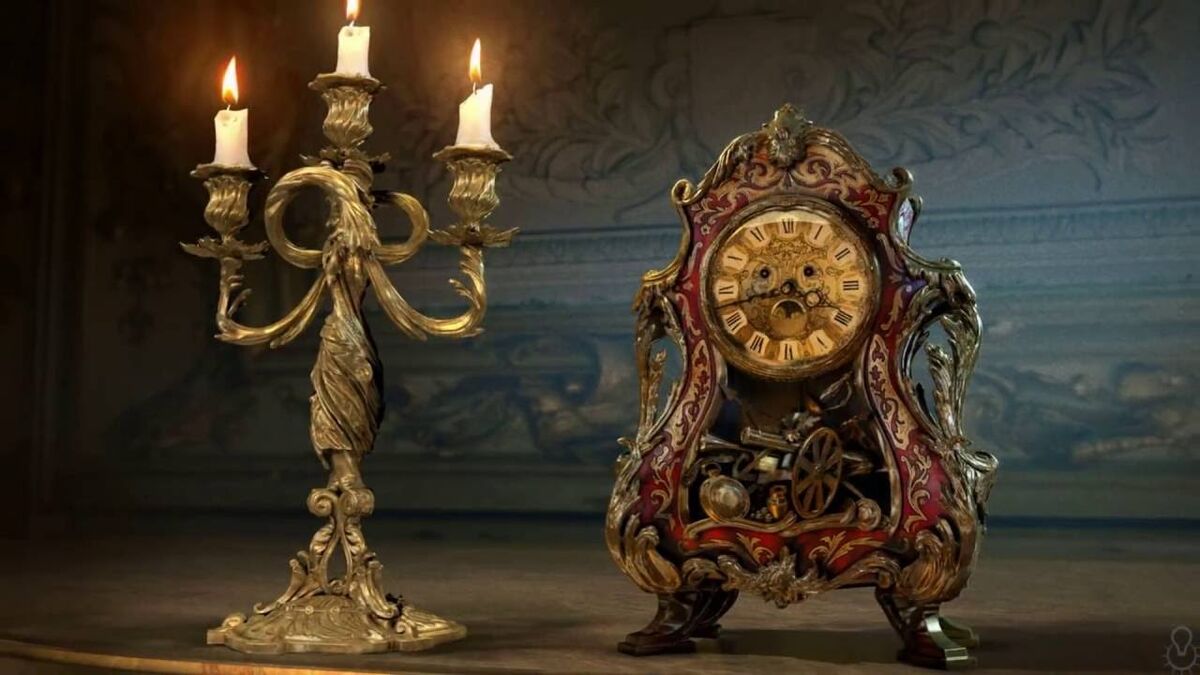 Emma Watson brings a touch of Hermione Grainger to the strong, bookish Belle, a girl looking to escape the small life she's been thrown into, while Kevin Kline dials back the crackpot to bring a welcome new sense of gravitas to the role of her father, Maurice. A supporting cast that includes Ian McKellan, Stanley Tucci, Ewan McGregor, Emma Thompson and Gugu Mbatha-Raw as the assorted furnishings that famously come alive breathes new life into characters that might otherwise feel out of place in this adaptation.
Is Beauty and the Beast Good?
The film's use of the word beautiful is muddled, and this is annoying. It applies the word to physical looks, even when referring to the people it condemns as shallow. The message, of course, that the film tries to push is that beauty comes from within and so this is problematic. But in a film of many wonderful pluses, this is a pretty minor minus and despite this, Beauty and the Beast is strides ahead of its forerunner, which looks dated and insubstantial in comparison. It's a sumptuous production that takes the best of other versions to make an adaptation that not only entertains but also speaks to today's discerning audiences.