There has been interest in a Black Widow movie in the Marvel Cinematic Universe since Scarlett Johansson debuted as the character in 2010¡¯s Iron Man 2. But even as we saw Natasha Romanoff have many adventures alongside her fellow Avengers, it would take a full decade for a solo film to be made ¨C and then, frustratingly, an additional 14 months to actually get to see it thanks to delays caused by the pandemic.
But now, at last, Natasha is taking center stage, in a film that tells an untold tale set between the events of Captain America: Civil War and Avengers: Infinity War, while introducing several key figures from Natasha¡¯s past, including two different Black Widows ¨C Florence Pugh as Yelena Belova and Rachel Weisz as Melina Vostokoff ¨C and David Harbour as Alexei Shostakov, AKA Red Guardian.
Read on for what director Cate Shortland (Berlin Syndrome) told Fandom about Black Widow getting darker than the norm for the MCU, the key role Yelena plays in the story, and more.
LIGHT THROUGH DARK
We have heard tidbits about Natasha¡¯s past before, but Black Widow gives us a lot more of the details, as we see how the events that shaped her childhood are notably dark and delve into a group that forces young girls into becoming assassins, while having little use for those who aren't up to their standards.
It¡¯s some rather dark material for the MCU, but Shortland said it was something necessary to provide context for Natasha and her journey. As the director put it, ¡°I think she¡¯s all about the light and the shadows and I think what happens to her in this film is kind of this cleansing journey. She has to relive some of these moments and accept what¡¯s happened with her in her life so she can come out the other end and go on to fight another day. I would say we weren¡¯t afraid of what she was, and we wanted the film to reflect all her character, which is dark and light.¡±
Notably, after an extended prologue, Black Widow has an actual, full opening credits sequence ¨C something very few MCU films do these days, unless they¡¯re a Guardians of the Galaxy film. These credits include a lot of visual information, and as Shortland explained, ¡°It came about in terms of us wanting to give a bigger framework for what¡¯s happened to Natasha. So, during that opening sequence you get an inkling of some of the moments she¡¯s been through and some of the moments in terms of the power structures around her say in terms of the Black Widow [program].¡±
THE YELENA FACTOR
A key character in the film is Yelena Belova, a fellow product of the Black Widow program who has a history with Natasha going back to childhood.
There's a lot of excitement about this character's MCU debut, including on Fandom's MCU Wiki, where SilverQuake616?wrote, regarding Yelena, "She's supposed to be different to Black Widow personality-wise, and I just think that'll be interesting to see, especially as they interact with each other. As well as that, I want to hear her story as well as Natasha's, and how their experiences differ."
ThatGuyNamedJoe?wrote, "I'm so excited for Yelena to make her MCU debut! I can't wait to see how she interacts with the other characters in the MCU and how her skills and abilities could be put to use as both the new Black Widow and as a new Avenger."
While both Natasha and Yelena have essentially had the same physical training, it is indeed made clear in the film they have their own sensibilities and demeanor, while also navigating a shaky sisterly bond. Shortland said finding someone who would be a great pairing for Johansson, while also bringing her own vibe, was key, noting, ¡°That¡¯s exactly why we cast Florence. They¡¯re both very earthy. Neither of them are ethereal. They¡¯re very, very strong girls, both of them. We knew it would be incredibly powerful having them both on set. But what Florence is is an amalgamation of herself, because Yelena has Florence in her, and also Eric [Pearson], the writer, who is really funny. He has put so much of himself into Yelena and also into Alexei.¡±
Some of Yelena and Natasha¡¯s more tense moments include Yelena noting that Natasha, in the world of the MCU, is a famous superhero with little girls who adore her and yet also a killer. As Shortland explained, ¡°It¡¯s like all of the things that she tried to compartmentalize and put away and not face, Yelena would open it up and say ¡®No, this is what you are. This is who you are. And you¡¯d better look in the mirror.¡¯ Because Yelena had been victimized by that same system and she wanted Natasha to face the truth. I think it¡¯s like all of us. I think we¡¯re all in some ways perpetrators. Every time we walk down the street, if we¡¯re in a first world, we¡¯re going on like that because we just want to get to the next thing and we¡¯re not worrying or we¡¯re often trying not to worry about who we¡¯re leaving behind.¡±
UP FOR THE TASK?
Black Widow has a couple of primary foes for Natasha, including Ray Winstone as Dreykov, a key figure in the infamous Red Room, but the person who¡¯s the most formidable physical threat is Taskmaster, who has the ability to mimic any non-superhuman action they see.
Said Shortland, ¡°Taskmaster for me is her psychology. He¡¯s her shadow side. It¡¯s like that character is in her peripheral vision and she does not want to see it and then comes — as Kevin [Feige] said — that character crashes into her movie. Which I really loved. She thinks she¡¯s on this film of self-discovery and Taskmaster crashes into it. And I think that Taskmaster is her psyche. I think the character works so well because it¡¯s not a physical character. It¡¯s, in a funny way, every woman¡¯s nightmare, meeting that character on a bridge.¡±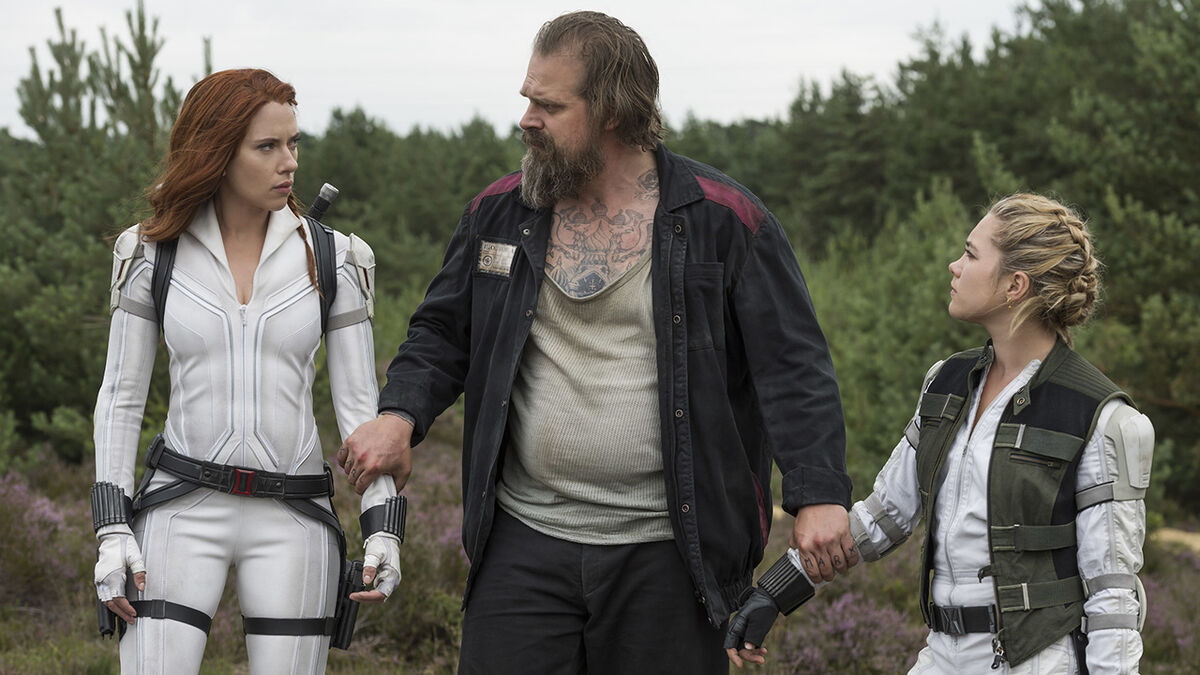 Though set at a specific point in the timeline, on the heels of Captain America: Civil War, Black Widow is telling a rather self-contained story, not burdened with needing to set up too many other pieces of the MCU. Said Shortland, ¡°What I loved about it was we could just focus on Natasha, who she is, where she¡¯s come from, what she¡¯s frightened of. But it¡¯s also really frightening because we were introducing Yelena, Alexei, Melina, O-T [Fagbenle]'s character [Rick Mason], Taskmaster¡­ We were introducing this whole litany of new characters so that was scary because we didn¡¯t know if the audience would respond well to them.¡±
You can meet the new characters surrounding Natasha for yourself when Black Widow debuts Friday, July 9 in theaters and on Disney+ with Primer Access.
?