The first few episodes of the Syfy / USA Chucky series introduced a group of new characters, anchored around 8th grader Jake Wheeler (Zackary Arthur), after Jake buys an old Good Guys doll at a yard sale and soon discovers there's something very dangerous about it. But now, in the second half of the season, the past is colliding with the present in a big way, as some familiar faces from the seven films that preceded the TV show return and enter Chucky and Jake's orbit.
Episode five ("Little Little Lies") saw the return of both Tiffany Valentine (Jennifer Tilly) and Nica Pierce (Fiona Dourif), and now this week's sixth episode ("Cape Queer") will bring two other key players, Andy Barclay (Alex Vincent) and Kyle (Christine Elise), into the story. Andy's been a central character in the lore since the very beginning, with Vincent originating the role in the original Child's Play in 1988 when he was just six years old. Elise joined him soon after, as we met Andy's foster sister, Kyle, in 1990's Child's Play 2. Both were then brought back into the mix in the past decade, with Chucky mastermind Don Mancini having Vincent, then Elise, show up in surprise post-credit scenes in 2013's Curse of Chucky and 2017's Cult of Chucky, respectively.
Fandom spoke to the duo about picking back up with Andy and Kyle again in 2021 and just how the Child's Play / Chucky franchise has managed to pull off the impossible for a slasher movie series: a unified continuity that has continued for 33 years, where every previous chapter still counts as 100% official – and often is quite meaningful to what's coming next.
IT'S ALL CANON
Eventually, the Friday the 13th movies (whose continuity was already a bit wonky) hit the reboot switch. Same for A Nightmare on Elm Street. Texas Chainsaw Massacre has several sequels with questionable continuity ties to the original, then a couple of hard reboot films, and multiple entries that have announced "forget the others, this is the real sequel to the original." Halloween has several branching timelines to follow through its run, more than one of which killed off Jamie Lee Curtis' Laurie Strode, only for the most recent films to wipe away every previous sequel and pick back up with Laurie 40 years later.
But the Child's Play / Chucky series? Every entry counts. The series has taken some wild twists and turns both in plot and style through the decades, finding the killer doll gaining a bride and a child in the process, and veering into comedy, then camp, then back into horror, but it has never ignored or contradicted what came before. Amazingly, one man has guided the entire franchise the entire time, with Don Mancini writing every single movie in the series and now serving as showrunner for the TV series. (This is where we should acknowledge there was a remake of the original movie in 2019, which was made by MGM, without Mancini's involvement, because they owned the first film and could legally do so, even though this TV show, based in the original continuity and produced by Universal — who have controlled the franchise since Child's Play 2 — was already in the works at the time).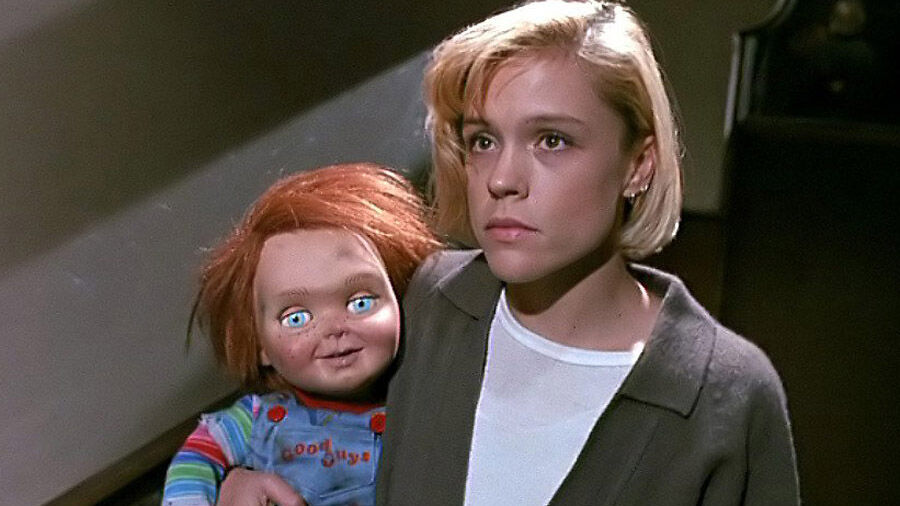 Christine Elise feels that dedication to what has come before had been a key component for Chucky's success, telling Fandom, "I think that's why it has such a loyal fanbase, is because it hasn't ever betrayed any of the story it's been telling over 33 years. It hasn't betrayed any characters and it hasn't had to ask you to pretend you didn't watch somebody die and come back to life again. So that's unique. And I think it's created great loyalty."
Alex Vincent said he felt another important factor was that the series continues to evolve and change and not stay stagnant, noting, "We didn't try to make Child's Play 1 seven times in a row, because I think that would have really not worked. I think it would have run its course long ago if that's what we were trying to do. Some fans, that's what they kind of want, is for it to always feel like Child's Play 1 and Child's Play 2. But I think now, especially with this longer format series, a lot of fans will be able to step back and look at the bigger picture of the whole thing and realize that the different directions we've gone over the years really served a purpose to keep us relevant and keep this even possible right now."
ANDY & KYLE: THEN AND NOW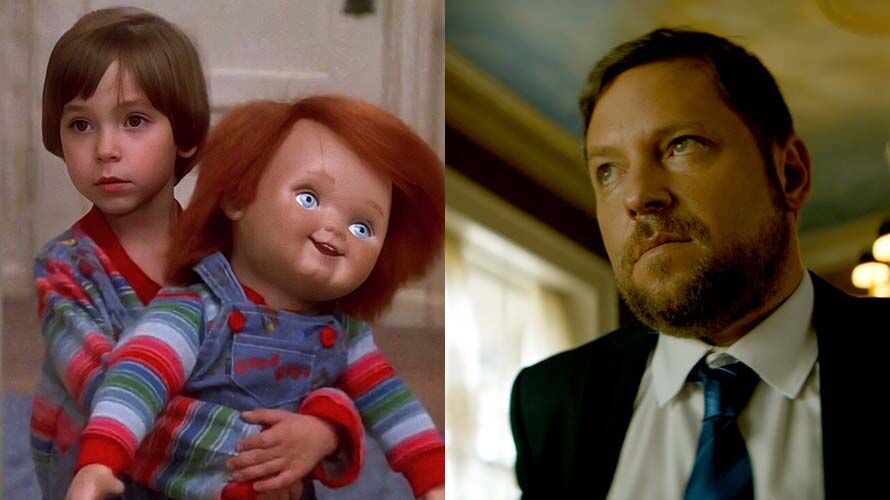 We actually heard Vincent's voice briefly in Chucky's premiere episode, as Andy spoke to Jake on the phone about his newly purchased Good Guy doll, clearly keeping tabs on who might have Chucky in their home without knowing it – an even bigger concern since the events of Cult of Chucky, which found Chucky splitting his soul across multiple dolls (plus one unfortunate person, via Nica). In this week's new episode, we find Andy and Kyle actively out on the hunt for Chucky, determined to destroy every body he's put himself into.
It was made clear in Cult that Andy's life has been entirely shaped by what occurred with that diabolical doll in his childhood and the multiple showdowns that followed. Reflecting on Andy's state of mind these days, Vincent said, "Trauma lasts a lifetime for a lot of people. And that's often not as traumatic as death and blood right in front of them, as a child, caused by a possessed evil doll. So yeah, I think the trauma will always stick with him."
Still, Vincent added, there's more to it than that at this point, noting, "I think more than trauma, it's become a bit of an obsession for Andy. And I think, in many ways, there's no amount of vengeance that would maybe really satisfy Andy. Yes, a big part of him wants to be done with this forever and if he has the opportunity to destroy Chucky once and for all, you would think that he would take it. But on the other hand, short of Kyle, and maybe Andy's mother, there are very few people in the world that know that Chucky is alive and that would believe him. When you get into an argument with your partner, knowing that you're telling the truth, and they don't believe you and nothing is more frustrating. And something like this, that I think really sticks with a person, would lead to such an obsession."
Chucky and Andy loathe each other, but they've been fighting now for 33 years, and Vincent observed, "That maybe is kind of why it's a little bit of a 'I can't quit you' situation too. 'I wish I could quit you.' And I think Andy is a little bit trapped in that cycle of thought in his life, where a big part of him wants to be done with this once and for all, but if he was, then who would he be?"
Kyle also dealt with Chucky firsthand and seen what he's capable of and is now helping Andy on his mission. Still though, Elise thinks Kyle is likely not quite in same headspace as Andy. "She hasn't been dealing with it since such a young age. Coming to it at 17 is different than coming into it at six and Andy lost his mother directly because of Chucky. Yes, she's alive, but she was not actively in his life in a way that she should have been as he grew up."
We met Kyle as a tough, jaded girl used to going from one home to another, and Elise added, "I think that she was already so protected from having been in the foster system for as long as she was and changing homes dozens of times. She's sort of self-sufficient and very protected and walled off from all of her teen years, so she was better prepared to handle such a thing."
Elise noted how much she liked the Andy/Kyle sibling dynamic, saying, "I'm glad that Don had her still be in tandem with Andy and that they are both of a like mind as far as what their mission is right now, rather than her trying to withdraw from it and, like, moving to Hawaii and being a mom. That'd be a disappointing story end for me for Kyle! I like that they're this Tarantino team out there looking for Chucky."
CHUCKY: GENERATIONS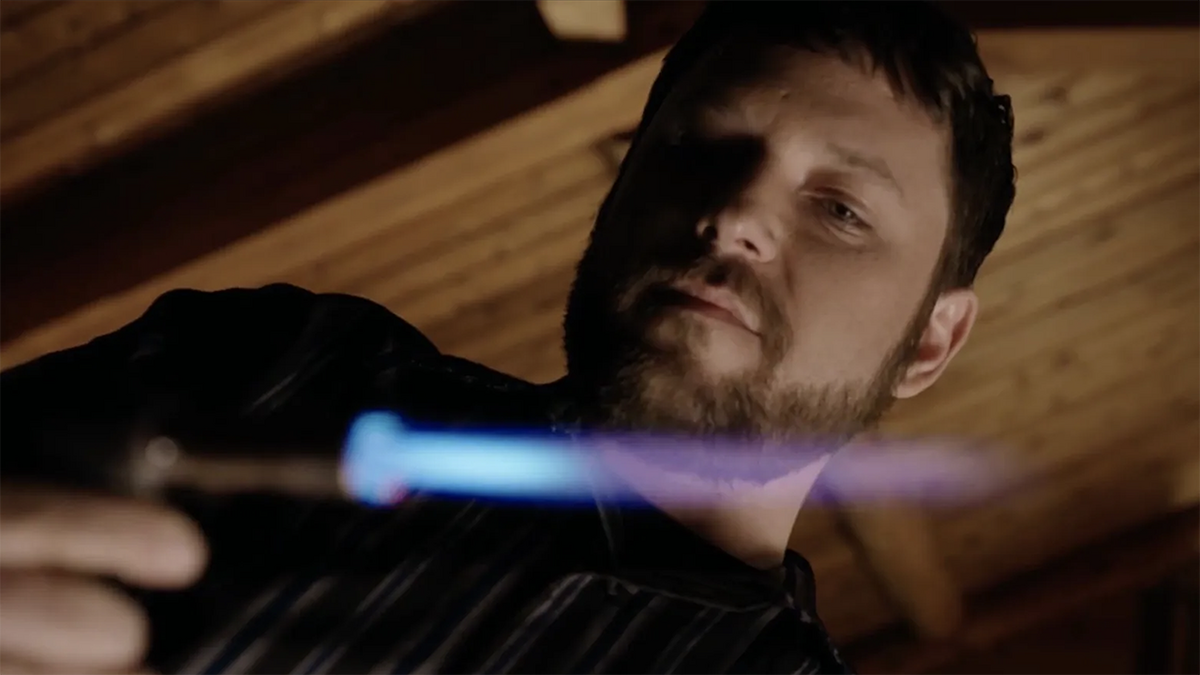 Vincent noted that not only did Chucky enter his life when he was incredibly young, but the same could be said for Fiona Dourif – she may not have begun acting in the franchise until 2013's Curse of Chucky but because her father, the legendary Brad Dourif, has played Chucky since the beginning, she too was somewhat around for it all since that first film.
Vincent said, of his fellow Chucky veterans, "What we share with the OGs, so to speak, is that Chucky has been in our lives for a very, very long time… Me since I'm six years old, and Fiona since she was six years old, in a lot of ways. Jennifer, since 1998 [in Bride of Chucky]. And Christine of course since she was 24 years old. So there's that connection that we all feel to each other, and especially from knowing each other when we were young. I imagine it was kind of odd in the beginning for Christine and Don to reconnect with me as an adult knowing me as a six or seven year old before that."
Zackary Arthur is joined in Chucky by fellow young actors Björgvin Arnarson ("Devon Evans"), Alyvia Alyn Lind ("Lexy Cross"), and Teo Briones ("Junior Wheeler") as the core cast, along with important recurring cast members like Lexa Doig ("Bree Wheeler"), Barbara Alyn Woods ("Michelle Cross"), Michael Therriault ("Nathan Cross"), Rachelle Casseus ("Kim Evans"), and Devon Sawa ("Logan Wheeler").
Said Vincent, of working with these new Chucky stars, "As far as the new cast goes, and the kids, it's great to see their excitement in this. First of all, seeing young people fulfilling their dreams for what they want to do is satisfying alone. But to enter what we know is a family and kind of the lifelong attention that they will get from this… I think maybe, in some cases, they're not even truly aware yet what that's going to be like. Having lived through it myself since six years old, it's fun to see their perspective and to kind of have a bit of a inclination on how that will play out in their lives in a way that maybe they're not even ready for yet."
Said Elise, "It's great to have fresh blood, so to speak, and a bunch of new personalities to have to come to the same realizations that Andy and Kyle have come to. And it's an age we haven't seen Chucky deal with yet. We haven't seen him deal with 13 year olds and so that has different opportunities for stories, so I think that's great."
---
Alex Vincent and Christine Elise can be seen on Chucky beginning Tuesday, November 16, airing on both Syfy and USA.
You can explore more of Chucky's history at Fandom's Child's Play wiki.