The Matrix Resurrections, the fourth film in the Wachowskis' Matrix series, is finally set for release this December. It comes some 18 years after the third in the saga, The Matrix Revolutions, first hit screens. As science-fiction aficionados everywhere look forward to the groundbreaking franchise's latest instalment, some fans' minds are turning to one of the films that influenced it, Dark City.
Crying Out For a Sequel
Following its release in 1999, The Matrix went on to make a huge cultural impact spawning two formal sequels. Anime series The Animatrix plus a number of video games – including The Matrix Online – followed. Both are canon and said to play into the new film. The influence of The Matrix can be seen far and wide in pop culture. But a year before The Matrix implanted itself into our collective consciousness, Dark City traversed similar territory.
Co-written by David S. Goyer, showrunner on a new adaptation of Isaac Asimov's equally seismic sci-fi story Foundation and scribe on Christopher Nolan's Dark Knight trilogy, as well as Zack Snyder's Man of Steel and Batman v Superman: Dawn of Justice, Dark City has strong Matrix echoes. The acclaimed dystopian sci-fi neo-noir is helmed by The Crow director Alex Proyas, who also directed I, Robot, another Asimov adaptation, and who mirrors The Matrix with Dark City. Its plot similarly revolves around humanity's unknowing enslavement within an elaborate illusion created by non-human beings. The film also parallels The Matrix's themes of love, identity, and reality.
But the similarities don't stop there – The Matrix makes use of the very same sets Dark City used. Both were filmed in Australia, and a side-by-side viewing of each reveals some shared buildings and exteriors. The rooftops that Trinity runs across at the start of The Matrix are the same that Rufus Sewell's character John Murdoch leaps across in Dark City.
I write about what this means for The Matrix in my book Why We Love The Matrix, but the point here is that Dark City is an important and influential movie in its own right with a fascinating plot, thought-provoking themes, and immersive imagined universe all of its own. It also has a strong cast, featuring Kiefer Sutherland, William Hurt, and Jennifer Connelly alongside Sewell. Nominated for numerous awards in its year of release, and winning some, celebrated film critic Roger Ebert labelled it the best film of 1998. Some might say it deserved its own sequel.
Never Say Never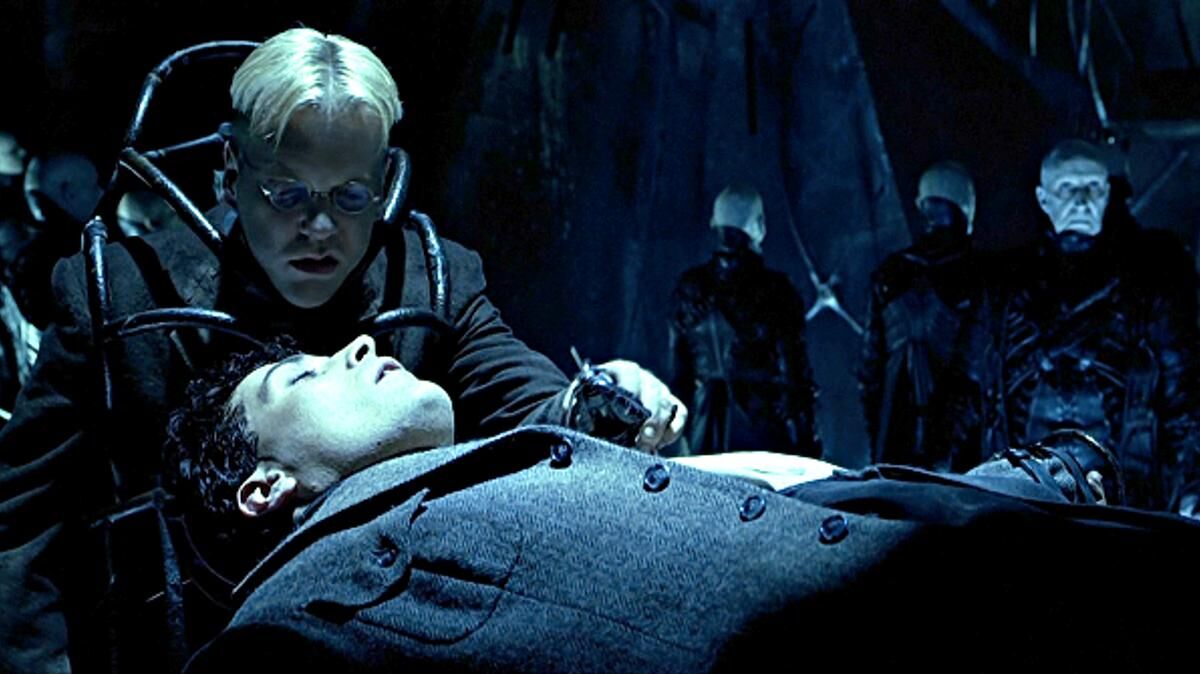 Alex Proyas has recently spoken about developing a series based on the original film. But why did a sequel never materialise? This is a question we posed to David S. Goyer recently during an interview to promote Foundation.
"From time to time, Alex Proyas and I talked about doing a sequel, but we didn't want to do it unless an idea bubbled to the surface," explains Goyer. "And we couldn't come up with an idea that [flew]. It was kind of a complete meal, that film. I would never say never. But we always looked at it as a kind of fairy tale. And, you know, he [John Murdoch] got the reward that he wanted in the end. It was just this sort of beautiful tone poem. And, I don't know, maybe one day we'll come up with a sequel."
In 2023, Dark City will mark its 25th anniversary and with renewed interest in The Matrix, perhaps now is a good time to start thinking again about a premise. In the meantime, Goyer has been working on a reboot of classic horror Hellraiser, which director David Bruckner has previously teased as "something of a small reimagining".
Honouring The Hellbound Heart
So what's the latest, and what does a David S. Goyer Hellraiser reimagining look like?
"We're going back to the original [Clive Barker] novella, The Hellbound Heart, and going back to the source material," says Goyer. "We're filming it right now; we're about two-thirds of the way through. It's going to honour Clive's work, but I think it's going to take it also in a new direction. And I'm really excited about what David Bruckner is doing right now with it."
The film is set to release directly on Hulu but doesn't yet have an official release date. For now, Goyer is focused on his Apple TV+ adaptation of Asimov's seminal sci-fi work, Foundation. First published in 1942, the series of novels has never previously found its way to the screen despite prior attempts. Considered unfilmable, Goyer's adaptation is a stimulatingly epic success. Premiering on September 24, we've yet to see how audiences will respond but Goyer hopes it's popular enough to allow him tell the entire story over the course of eight seasons.
Approaching Foundation Like Batman
Goyer says tackling the adaptation was intimidating.
"Yes, I felt a sense of reverence. My father gave me a copy — an omnibus edition of the trilogy — when I was 13," he says. "He said it was the greatest science fiction work of all time. No pressure. It's one of those works that a lot of people have read, or have on their bookshelf and haven't read, but say they've read. What's interesting about Foundation is it's also a work that, for whatever reason, a lot of people feel like they have a very personal connection to and it was important to a lot of people in their lives. I'm cognizant of that responsibility. It's a privilege and an honour to be able to adapt it.
"But at the same time, you still have to roll up your sleeves, and you have to adapt it in the same way that you do with Batman, or the same way that you do with Superman. You have to appreciate it and revere it but then you also have to step back, from 20,000 feet and say, 'Okay, this can't be a line-for-line adaptation'. The audience that's viewing it today is an audience that's 70 years removed from when Asimov was writing it, there are going to have to be changes made. And so you have to say, 'How do I honour those core principles and those themes and those ideas? And then how do I adapt it for an audience of today?'"
With press given access to the entire first season ahead of its premiere, I can say he's nailed it. I wonder if the Foundation we are seeing today is the same Foundation he would have made 10 or 15 years ago.
"I know it wouldn't have been because 15 years ago, I wasn't a father," he says. "Now, I'm a father of three. And I look at the world very differently. I think I was more selfish before I had kids. I actually do think about what the world is going to be like after I'm gone and when my boys are adults, or possibly have their own children. And that's not something that I really thought about [before]. I don't think I could have adapted it prior to being a father."
Goyer's Foundation does have a lot of heart – more so than Asimov's books, which Goyer says are "primarily about ideas and concepts". The series not only foregrounds love but also explores the theme of fatherhood alongside Asimov's big talking points and other pertinent topics.
"When you're tuning into a serialized show, people are tuning in primarily for the characters, and for the relationships," says Goyer. "I wanted fans of the books to appreciate it. But I also wanted people that have never read the books to appreciate it. And I wanted people that don't think of themselves as science fiction fans to appreciate it. And at the end of the day, we're human beings."
Indeed we are.
The 10-episode first season of Foundation premieres on Apple TV+ on September 24, 2021 with the first two episodes, then weekly with one new episode debuting every Friday.
For more from our chat with David S. Goyer and interviews with Foundation stars Jared Harris and Lee Pace, click on the article below.