Since Iron Man kicked things off in 2008, there has been no shortage of fans who have been eager to dive into the Marvel Cinematic Universe and it¡¯s interconnected films and series and if you¡¯ve ever imagined getting to step foot into the MCU, the closest thing to it can be found now at Disneyland Resort's Avengers Campus, inside Disney¡¯s California Adventure park.
It took me a few weeks since its opening, but I was finally able to make my own visit to Avengers Campus, to see what it was like to walk amongst several notable Marvel heroes, eat some quantum-ized food, and take a, ahem, spin on Web Slingers, the new Spider-Man ride.?I also spoke to Walt Disney Imagineering Executive Creative Director Brent Strong for some insight into the making of Avengers Campus and to learn why character interaction is pivotal, as is understanding that when you are at Avengers Campus, you¡¯re simply in another corner of the Multiverse…
CHARACTERS ARE KEY?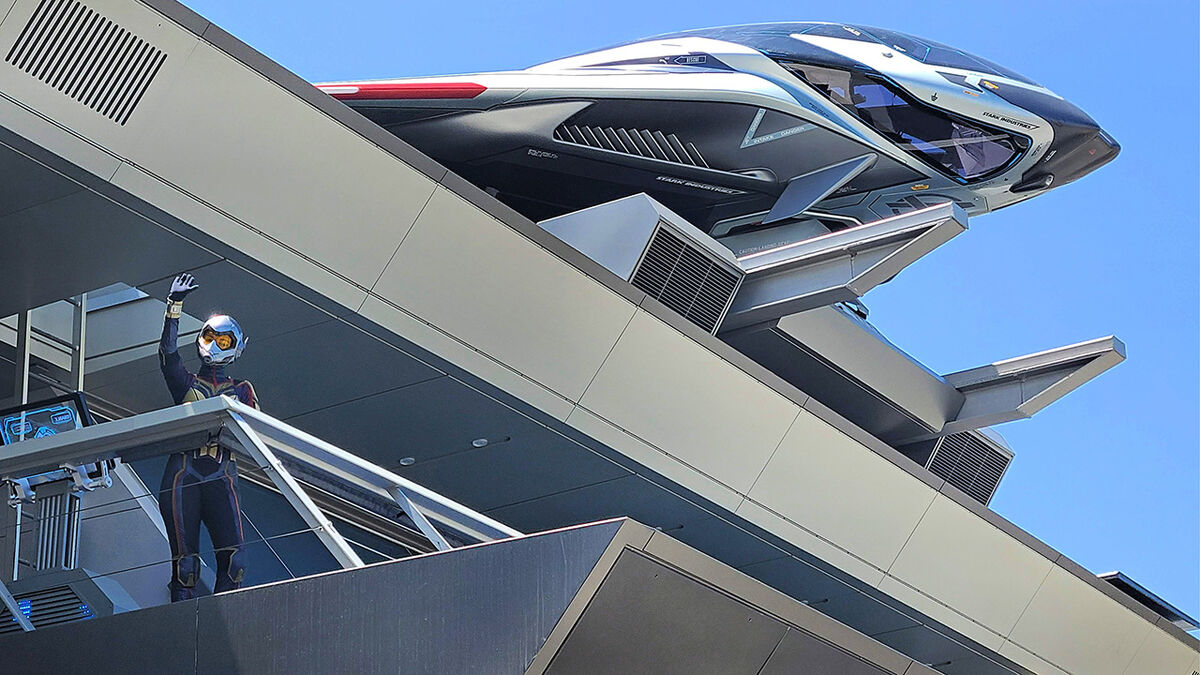 The past decade has seen several notable, immersive lands pop up in theme parks, many via Disney, most of which include at least some component of character interaction. You can see Rey, Chewbacca, or Kylo Ren pop up in Star Wars: Galaxy's Edge, Lightning McQueen or one of his buddies drive out for a photo op in Cars Land, and even a demonstration of a mech suit in Pandora: The World of Avatar, but when it comes to seeing and meeting characters you know and love, Avengers Campus is hard to beat. It¡¯s very rare that you won¡¯t see at least one character out and about at any given time – and in many different manners.
Over at the Avengers Headquarters, the likes of Captain Marvel, Black Widow, Black Panther, or Wasp can be seen walking above you on the catwalks, sometimes waving down and interacting with guests, sometimes looking up what is no doubt very important Avengers info at a computer console — as I saw Wasp doing at one point — or even battling the likes of Taskmaster. Star-Lord, Gamora, and Groot make appearances to lead a dance party (with some reluctance from Gamora), while Spider-Man frequently shows off his agility above the Worldwide Engineering Brigade building the Web Slingers: A Spider-Man Adventure ride is housed in, culminating in seeing him soar through the air — or at the least a feat of imagineering that sure looks like a human body flying above and is quite an impressive sight — before climbing down the building and posing for photos.
Iron Man likewise comes out to meet his adoring fans, and Okoye, sometimes joined by other members of the Dora Milaje, leads crowds in a fighting demonstration. There¡¯s also the Doctor Strange encounter at the cool-looking Ancient Sanctum… which, unfortunately, wasn¡¯t happening on the day of my visit.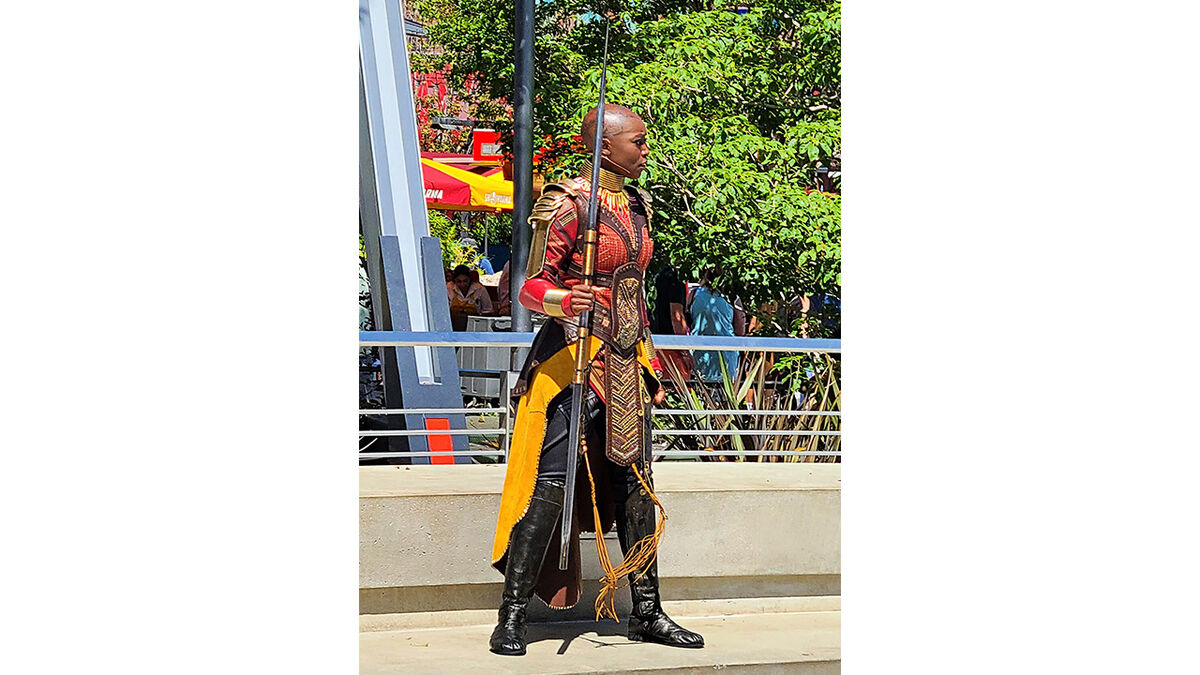 Still, Stephen Strange¡¯s absence aside, it stood out just how consistent the character sightings were during the time I visited Avengers Campus, with some like Spider-Man and Okoye appearing multiple times while I was there, while other characters would frequently pop in and out.
Walt Disney Imagineering's Brent Strong said these characters appearing among guests was crucial in the conception of Avengers Campus, explaining, ¡°One of the things that we realized early on is how key the characters are to making these stories authentic. It's one of the reasons that when you walk through Avengers campus, there's so many characters and there's always something going on.¡±
Inside the Sanctum is the eye-catching Orb of Cagliostro and Strong revealed that a favorite Avengers Campus memory of his involved seeing a group of guests interact with some of Doctor Strange¡¯s apprentices you can meet, which quickly turned into a role-playing scenario for all involved. As Strong recalled, the sorcerers and the guests ¡°all worked together to rebind the orb and make sure that dark magic didn't escape. It was a group of maybe 25 guests and there wasn't even any of the iconic heroes in that circle. But in that moment, they were all heroes helping to protect the Avengers Campus. And to me that was a very special moment where the guests can inhabit that role of a hero so wonderfully.¡±
KEEPING UP WITH THE TIMES
(AND TIMELINES)
Avengers Campus got some very favorable attention on social media as Loki was airing due to how the title character¡¯s appearance on the Disney+ series was immediately impacting his appearance at Avengers Campus. As new episodes would debut, Loki¡¯s costume at California Adventure would change – one week he¡¯d be sporting his prisoner garb, the next his TVA uniform, with President Loki also making his debut among guests in the days following that episode airing. Similarly, when Black Widow opened, Natasha Romanoff popped up at Avengers Campus in her all-white uniform seen in the film.
Strong explained this ¡°of the moment¡± nature was another part of the experience they felt could stand out, saying, ¡°It¡¯s absolutely something that we thought about from the get go. That is part of what makes this universe so exciting, is how dynamic it is, how ever changing it is, and how many characters are coming and going. And so we absolutely designed Avengers Campus with the sense that we need this place to be flexible and to be alive and to be breathing.¡±
As to whether this will continue in the future as more Marvel films and series debut, and with it new costumes for familiar characters — not to mention new characters entirely — Strong couldn¡¯t get specific but simply said, ¡°Yeah, you can definitely expect more,¡± adding, ¡°We're all fans. We all love it. We love these characters and want them to show up and we want to interact with them as much as anyone else.¡± All of which is to say, it won't be surprising to see some new characters at Avengers Campus as?Shang-Chi and The Legend of The Ten Rings and Eternals open in the next few months.
Avengers Campus debuted on the heels of The Falcon and the Winter Soldier concluding, and Sam Wilson has been seen sporting his Captain America uniform there, also reflecting a very recent change in the MCU. However, I did lament to Strong that it felt like a shame not to have Wanda Maximoff at Avengers Campus so far, given her well received Scarlet Witch costume from the end of WandaVision. But perhaps there's hope, as Strong told me, ¡°I wouldn't rule anything out. No announcements made at this time. But we know that everyone has a favorite character, everyone has a favorite world, and we are working to make sure that we're constantly reflecting the broadest range of heroes.¡±
ANOTHER CORNER OF THE MULTIVERSE
MCU fans will note that the characters seen at Avengers Campus, while all beloved parts of the films and TV shows, do bring up some notable discrepancies from what Loki referred to as the Sacred Timeline. After all, how can both Steve Rogers and Sam Wilson be wearing their respective Captain America costumes concurrently? And there¡¯s the unfortunate fact that Iron Man and Black Widow are, well, dead of course¡­ not to mention we¡¯ve never seen Peter Parker involved in a Worldwide Engineering Brigade (more on that below) in the films.
Of course, there¡¯s a very special word that can help explain all of this that is becoming increasingly familiar to fans -Mmultiverse. Avengers Campus has opened right as the MCU is going very big on all things multiverse, between Loki, What If¡­? and next year¡¯s Doctor Strange in the Multiverse of Madness (not to mention, if rumors are correct, in Spider-Man: No Way Home).
Others involved in Avengers Campus have already said fans should consider it to be set in its own corner of the multiverse – one that allows for these characters to co-exist in a way some can¡¯t in the films and shows. Given the current direction of the MCU, Strong said it was indeed helpful that those visiting Avengers Campus likely understand what the multiverse is more than ever, remarking, ¡°This is one of the things that we've had very, very close partnership with the studios and knew?where the universe was headed. This idea of having a place where heroes from across space and time can come to train us and come to welcome us felt like that thing that could still be very authentic to the world, even if it's hard to pin it exactly on a timeline. But as we've all learned, time is a lot more fluid than we previously thought.¡±
MIKE MINE MARVEL FOOD
In a ¡°Oh, of course!¡± bit of inspiration, there are two different Shawarma Palace carts in Avengers Campus, thanks to the food that the Avengers ate in the memorable (and dialogue-free) post-credit scene to their 2012 film, plus a Terran Treats sweets cart.?However, the main dining experience is the Pym Test Kitchen, which has a lot of fun with the size of food, thanks to dishes like the Impossible Spoonful, Pym-ini, or the Not So Little Chicken Sandwich (that last one was my personal favorite of the dishes I sampled).
Strong said that figuring out what the main dining experience would be and how to make it feel special and have what he called ¡°That twist of extraordinary¡± was a challenge.
¡°One of the words that we focused on a lot was ¡®juxtaposition.¡¯ How do you juxtapose the ordinary and the extraordinary together? It was just one of those big collaborative brainstorming sessions where suddenly that idea of the Pym Test Kitchen came up — this idea of what Pym Particles were applying to food — and we all laughed, and we're like, 'That's it, we found it!' It just brought a smile to our face instantly. I am so incredibly excited for how the food and beverage team were able to run with that and the collaboration with them to create things that look amazing, that tastes amazing, that you can't wait to take a picture with, and you can't wait to eat is just phenomenal.¡±
JUST GO SLINGING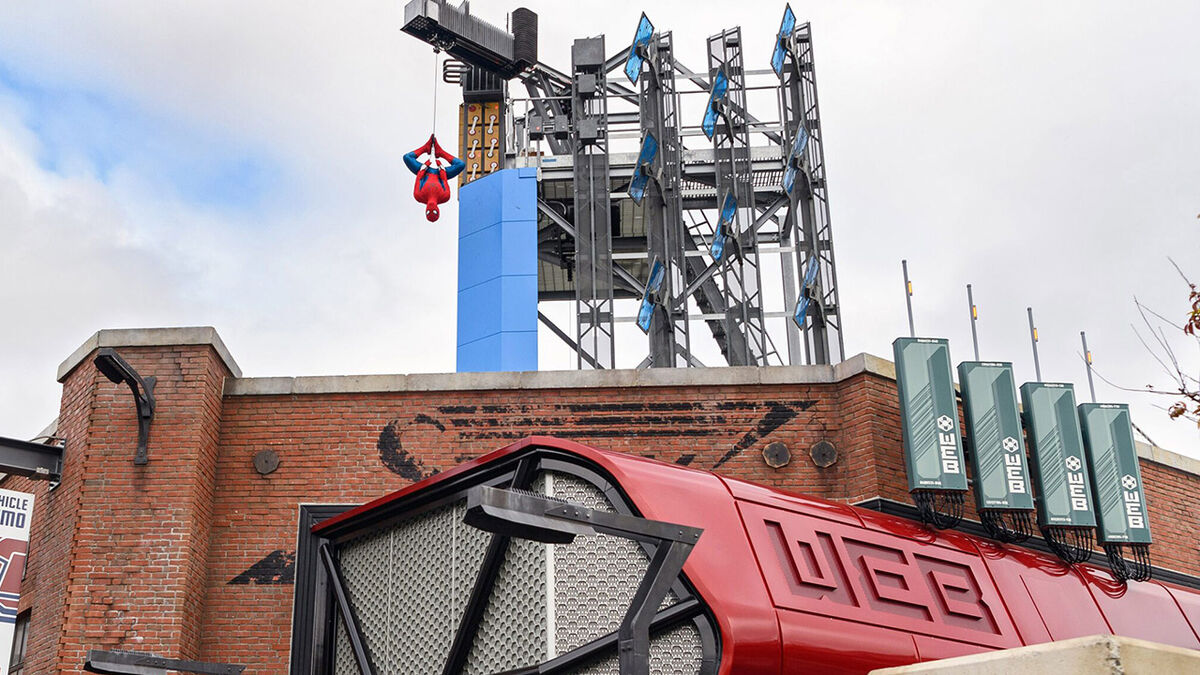 Avengers Campus was built to incorporate the preexisting Guardians of the Galaxy – Mission: BREAKOUT! attraction and has opened with one main new attraction, Web Slingers. A moving, interactive screen ride reminiscent of Toy Story: Midway Mania, the attraction finds guests helping Spider-Man (with Tom Holland voicing the role and playing Peter Parker in the pre-show) stop some escaped Spider-Bots from the Worldwide Engineering Brigade, or WEB, facility. Impressive tracking technology has the ride scoring the web hits you achieve along the way by simply making the famous Spider-Man web slinging pose with your arms and hands, in a ride that is surprisingly physically strenuous depending on how much you move your arms back and forth to make those web shots.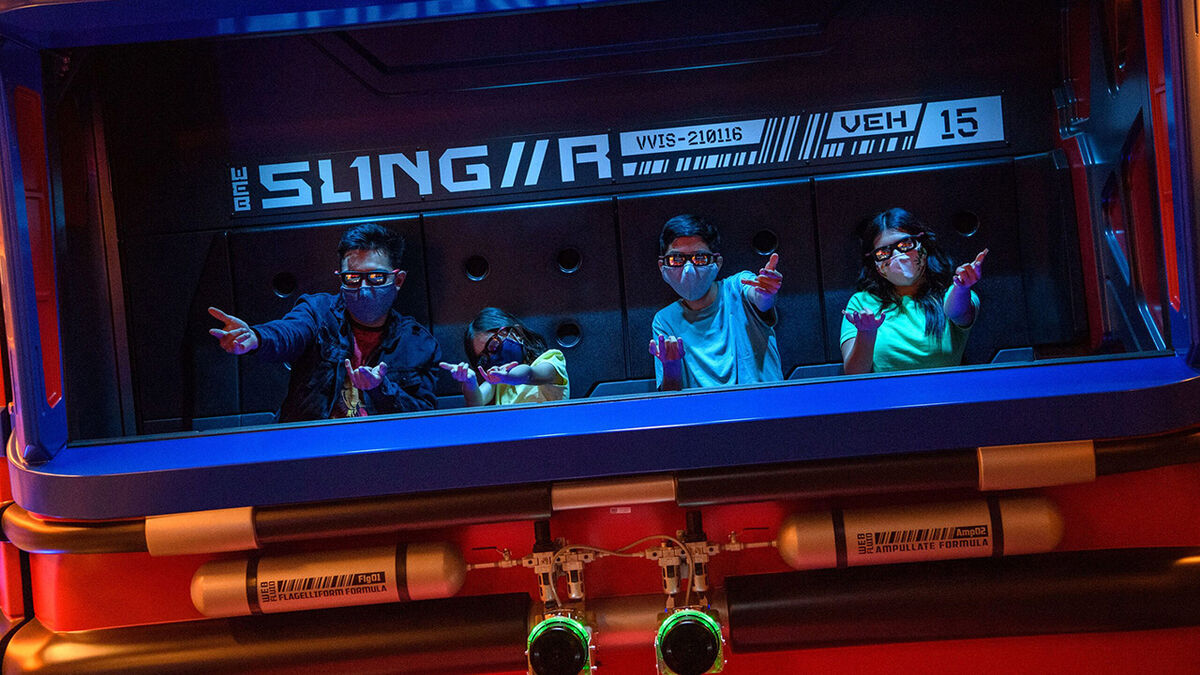 What also stands out though is the journey you take on the ride via those screens, which travels through the entirety of Avengers Campus, as you exit WEB and end up in the Pym Test Kitchen, the Collector¡¯s collection (the setting for Mission: BREAKOUT) and the hanger of Avengers Headquarters – the latter of which certainly seems to give you a bit of a preview of the Avengers ride that will one day exist where the Avengers Headquarters exterior is located and which, try as I might, Strong couldn¡¯t give any info on just yet.
Regarding the way Web Slingers takes you through the different locations, Strong remarked, ¡°That was actually one of our really early ideas. I've always been a huge fan of PeopleMover and attractions like that, like the old Skyway, that would give you a little tour of the park; that interconnectivity of attractions. It¡¯s one of the things that I love so much about the [MCU] films is that they're interconnected, that they reference each other and that there's a million Easter eggs and connections between them. And it just felt like such a great fit to bring that into our lands to have essentially that tour of the campus while you're in the middle of that.¡±
The WEB building also stands out as it is meant to be an old Howard Stark facility that Peter and his friends have taken over and are making amazing things in but which isn't an environment that is exactly state of the art itself. Strong said that felt right because ¡°So much of Peter Parker's identity is that he's sort of self made, right? He¡¯s under-resourced and he doesn't have Tony Stark levels of money. And so we didn't want him to have this large, high tech expansive lab that feels purposely built for Peter Parker, because then he doesn't feel like a high school kid who's scrapping things together.¡±
The Stark building also allowed them to layer in the history of Avengers Campus, which is elaborated upon in a couple of old maps you¡¯ll find outside, where, Strong noted, ¡°You'll see S.S.R. logos and the old Pym logos and the Stark Motors logos, and you can actually map it to some of the buildings that are you still there today.¡±
NEW NAMES AND FACES
WEB is made up of a large group of smart, young minds working with Peter and who those folks are, as listed throughout the Web Slingers building, certainly stands out. One of them is Harley Keener, introduced in Iron Man 3, and another is Cassie Lang, Ant-Man¡¯s daughter. Others we know are coming soon to the MCU, such as America Chavez (who will be played by Xochitl Gomez in Doctor Strange in the Multiverse of Madness) and Riri Williams (who is getting her own Ironheart Disney+ show led by Dominique Thorne as the title character). Plus, there are some like Doreen Green (AKA Squirrel Girl),? Lunella Lafayette (AKA Moon Girl), Rick Jones, Amadeus Cho, and Onome? — not to mention the likes of Miles Morales and Gwen Stacy — whose MCU future isn¡¯t as clear just yet.
While fans will of course speculate on if we should assume some or all of those names make their official MCU debut anytime soon, Strong said he and his team loved that, ¡°We were able to highlight people in this amazing, rich universe who are special because of how intelligent they are¡­ It goes to show that you can be a hero using more than your muscles. You can be a hero using your brain, which is really fun.¡±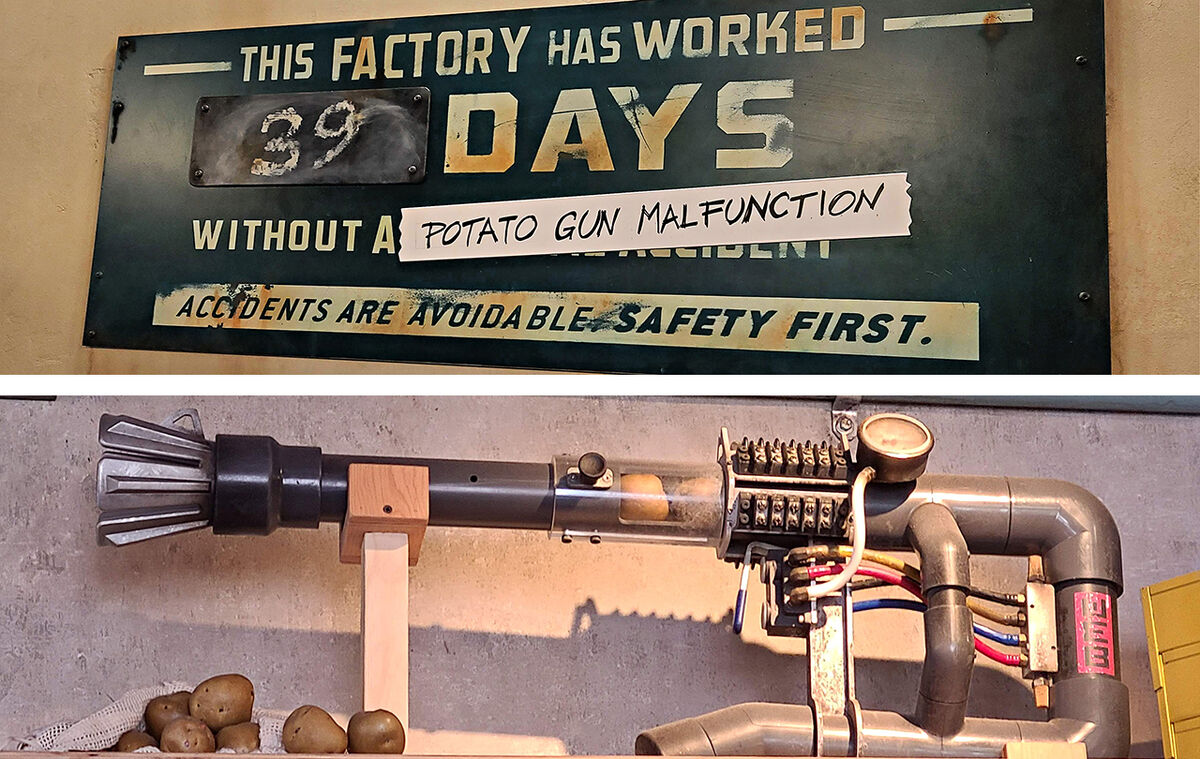 Oh, and if you¡¯re a big fan of the somewhat divisive Iron Man 3, as I am, there¡¯s plenty of fun nods to Harley¡¯s time with Tony Stark in both the WEB building and the WEB Suppliers Store, as Harley¡¯s Potato Gun: Mark II, built for him by Tony is both referenced and seen.
IT¡¯S ALL (GLOBALLY) CONNECTED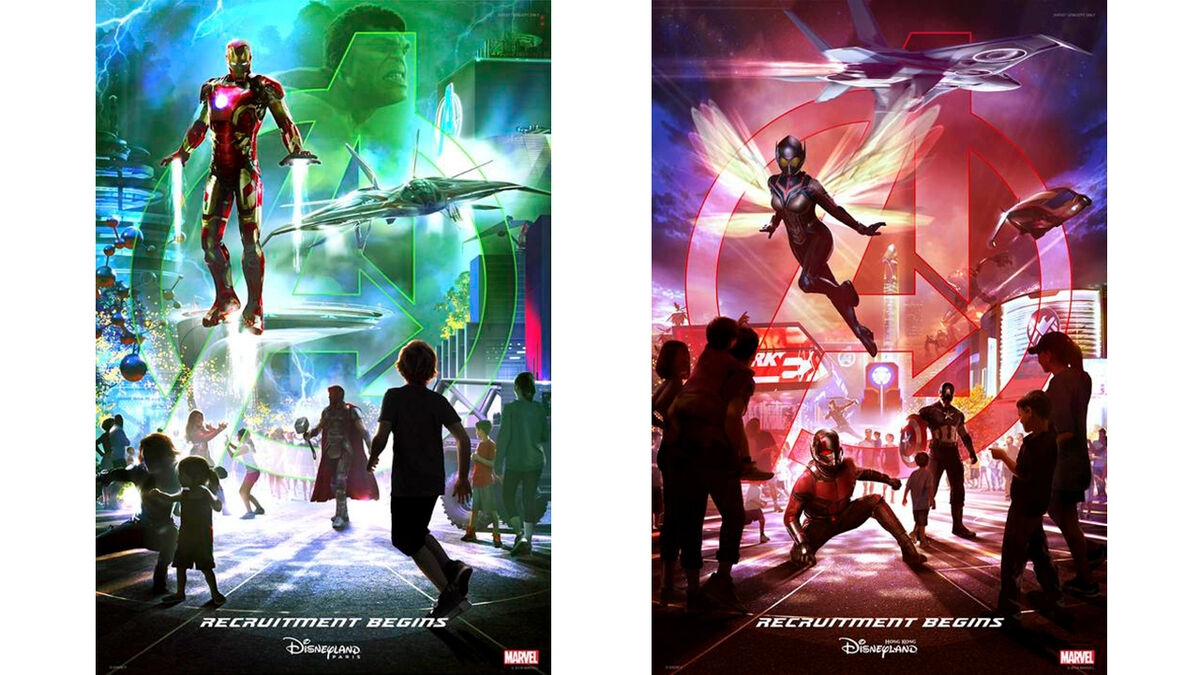 Avengers Campus at California Adventure will be joined by another Avengers Campus at Disneyland Paris¡¯s Walt Disney Studios Park that is currently being built, while there¡¯s a slightly different Stark Expo concept for the upcoming Marvel-based land at Hong Kong Disneyland, expanding off of the current Iron Man Experience and Ant-Man and The Wasp: Nano Battle! rides.
With all three of these areas, Strong explained, ¡°We do view it as one big, interconnected story. If you walk through the Worldwide Engineering Brigade, you'll see that there's a picture of Dorian Green next to the Eiffel Tower where she's helping scout out the location for Avengers Campus Paris. And you'll also see that they have some pictures taken from the Stark Expo in Hong Kong, where they have gone out and they visited. And even in the Pym Test Kitchen, there are some pictures of Ant Man and Wasp helping to fight off Hydra in that attack that they made on the Hong Kong Expo that takes place in those attractions. So we do view it ?very much as an interconnected world, where these attractions and locations reference each other and are aware of each other.¡±
Disneyland Paris will also have the Web Slingers ride, but they¡¯ve accounted for that too. As Strong puts it, ¡°It¡¯s one of the reasons it's the Worldwide Engineering Brigade, because we already know that there's at least two sites.¡±
There are a ton of MCU fans out there that will love to immerse themselves in Avengers Campus, but Strong noted they do have to think about people who are less familiar with the films and series – or maybe don¡¯t know them at all.
As he put it, ¡°One of the most fun parts about this is recognizing that a lot of people, they're steeped in the lore, they've watched all the movies, they've read 1000 comics, they've been to all the all the parks, and they're the ones who you get to plant these fun little Easter eggs for; these fun little interconnects that they get to grab onto. But for a lot of people, this will be the first exposure that they've ever had to these characters. We always have to think about it through both lenses. If you've seen every Avengers film, how does this pay homage to that investment that you've put in? But if this is the first time you've ever [seen them], how are we introducing these characters in a way that makes you want to learn more?¡±
Photos above via Trish Troesh, except where noted.?