After the longest break between new Marvel Cinematic Universe projects in over a decade — albeit unintended and thanks to Covid-19 delays — ?we're finally getting the first new MCU content since Spider-Man: Far From Home beginning this Friday, as WandaVision premieres on Disney+. The first TV series from Marvel Studios, WandaVision stars Elizabeth Olsen and Paul Bettany, continuing their roles as Wanda Maximoff and Vision from the Avengers films.
Fandom spoke to Olsen, Bettany, and the show¡¯s director, Matt Shakman (It¡¯s Always Sunny in Philadelphia, Game of Thrones), about just how unusual this series is, as Wanda and Vision find themselves living inside the reality of an American sitcom, which moves through the decades week to week, changing styles from the 1950s, to the 60s, 70s, 80s, and beyond. They also discussed the evolution of Wanda into the true Scarlet Witch from the comics, and more, including Olsen¡¯s next MCU appearance, in Doctor Strange: In the Multiverse of Madness.
Not Your Typical Superhero Story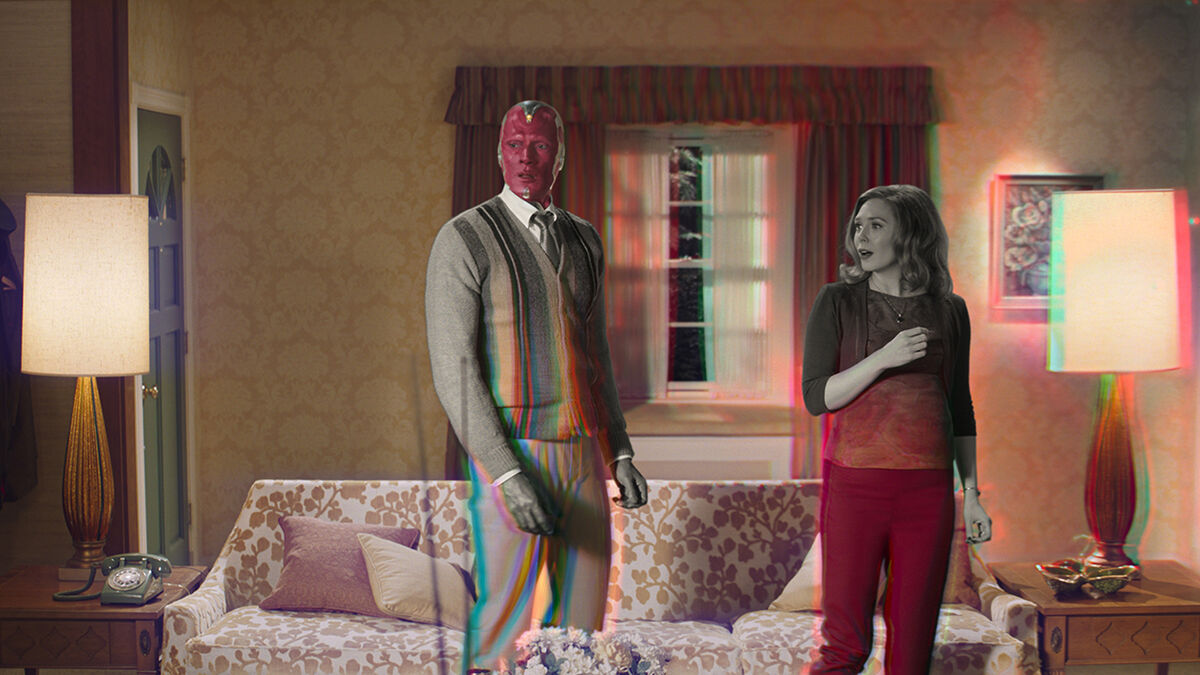 With superhero stories dominating the box office in recent years, and a ton of comic book-based shows on TV as well, there has been some pushback that there are too many of these projects or that they can feel too similar to one another. And while the Marvel-based series?Legion was certainly way out there as well, WandaVision stands out because it was produced by Marvel Studios and Kevin Feige, unlike any previous TV projects.
Asked if WandaVision, with its very trippy feel, is here to show just how different things can get under the Marvel Studios umbrella, Bettany replied, ¡°Yeah. I mean, I try to push back against that the whole time, especially with Marvel. I think it's usually said by people that actually haven't seen a superhero movie since the 80s. And I think that Marvel has always taken big swings and nobody knew Guardians of the Galaxy was going to be a hit. Nobody knew, frankly, putting Robert Downey Jr. in a movie directed by Jon Favreau was going to be a slam dunk. So I think it's a spurious accusation anyway.¡±
Bettany said he felt with WandaVision, ¡°I think that this has to put that [belief] to bed. This TV show is bonkers! I mean, it's a bonkers big swing and it's so beautifully wrought by [head writer] Jac Schaeffer. When you understand the sort of puzzle box of it… week by week people will be able to peel back each layer of this mystery and it is not an arbitrary decision to be in sitcoms for the initial portion of the series. When you finally understand that it's going to blow people's minds.¡±
Olsen agreed, saying, ¡°I felt it was the most unique and original thing I have ever done. I just felt like I was just thrown into The Twilight Zone. And so I would like to say, yes, a superhero story can be literally anything. And I think our show tries to prove that through sitcom.¡±
Shakman recalled, ¡®I think Kevin Feige said — I'm not sure when I read it ?— but at some point, he said, ¡®What do you mean there are too many comic book movies? Are there too many novels?¡¯ There are a million different stories. Just because it's delivered in comic book form doesn't mean that there isn't just incredible diversity of story out there. And so, yeah, absolutely. I think WandaVision is original and different and exciting, but it's telling a really wonderful, big human story. It's a romance. It's a mystery. It's an adventure story. And hopefully people are excited for that.¡±
THE HAPPY COUPLE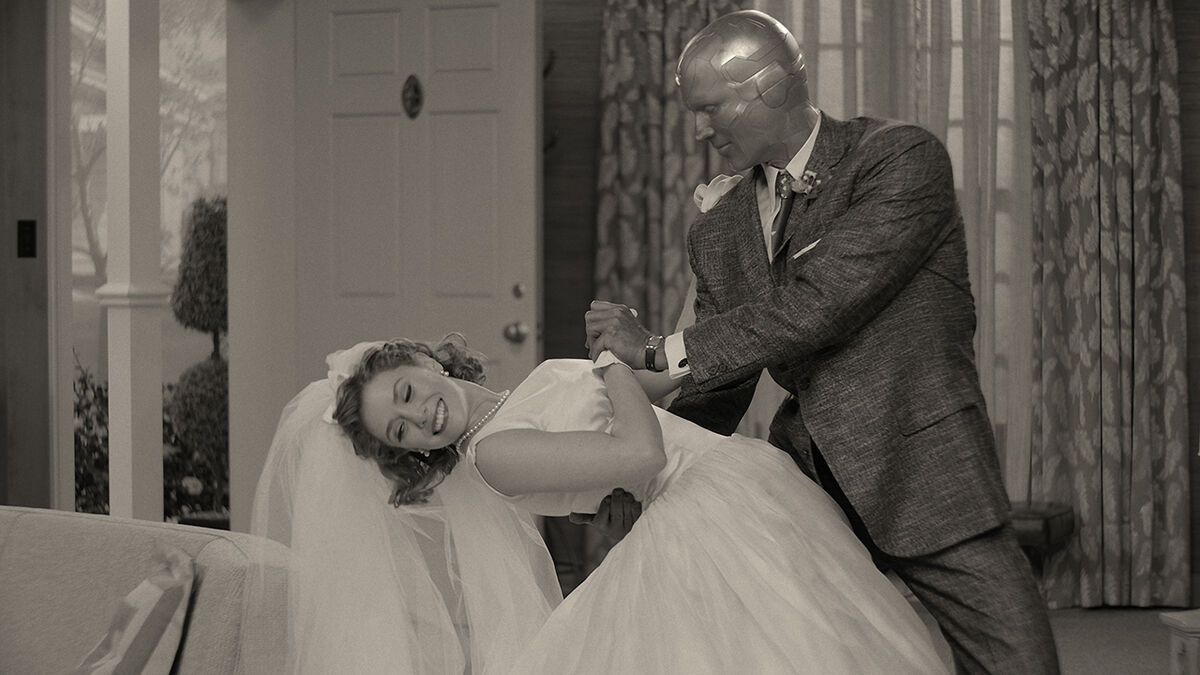 In the films, there are a ton of characters to juggle, and Wanda and Vision have never been happy for too long before an Avengers-level threat strikes. WandaVision gives Olsen and Bettany much more time to show these two together as a happy couple, albeit in this very odd, sitcom scenario.
Said Olsen, ¡°I think that's what's really fun for us, is Vision and Wanda in the suburbs and trying to not be found out and trying to just be accepted as normal. What their roles are in their relationship kind of shift and change. He becomes this kind of bumbling man with information. And she's the more solid force between the two of them. It was a fun opportunity for us to explore that.¡± She added, ¡°But bust the door down, really!¡±
For his part, Bettany remarked, ¡°Frankly, it was great to have the screen time because, you know, necessarily so, there's so many characters in these movies now that it's a feat of paranormal magic to make the movies make sense. You have a very limited amount of screen time with which to cram in your journey and Lizzie and I've been lucky enough to always find our own lane in those, but it was really great to be able to be expansive about it. It¡¯s been a grand old time. It¡¯s one of the best, most creative, beautiful experiences of my career.¡±
Said Shakman, ¡°These actors, Paul and Liz, have incredible chemistry together. They're brilliant. But also those characters, they have such chemistry. Here's this fiery person who suffered all this loss and trauma. And you have this person who's kind of human in a way, a small part human, but yet feels more human than any of us. He's sort of the great philosopher of the human condition. It¡¯s this kind of beautiful, calm lake and this fiery storm coming together and it feels so right. And I think we all kind of lean forward because we understand how opposites attract and how they complete each other. And so to build a show where you get to spend nine episodes exploring that relationship, celebrating that, is really important.¡±
Added Shakman, ¡°Some of their happy moments in the films have been my favorites, like cooking together, paprikash, or holding each other in Scotland. These moments are really important moments, and they stand out to me just as much or more so than finger snaps and giant action battles because they're these incredibly powerful, human moments. And so this is a show that explores and draws on and builds on that.¡±
Meanwhile, of course, is the lingering mystery of what exactly is going on. Why and how are Wanda and Vision inside a sitcom scenario? And how is Vision even alive at all, given he was killed in?Avengers: Infinity War?
When it came to acting within this complicated dynamic, Olsen described it as, ¡°This tension that we're in one world, the sitcom world, and the MCU world is kind of knocking at the door. Whatever that tension is that lives within the sitcom with the MCU, I found that to be really fun to play with¡­ The moments of kind of [seeing] which world dominates within our show.¡±
SCARLET WITCH¡¯S STRANGE JOURNEY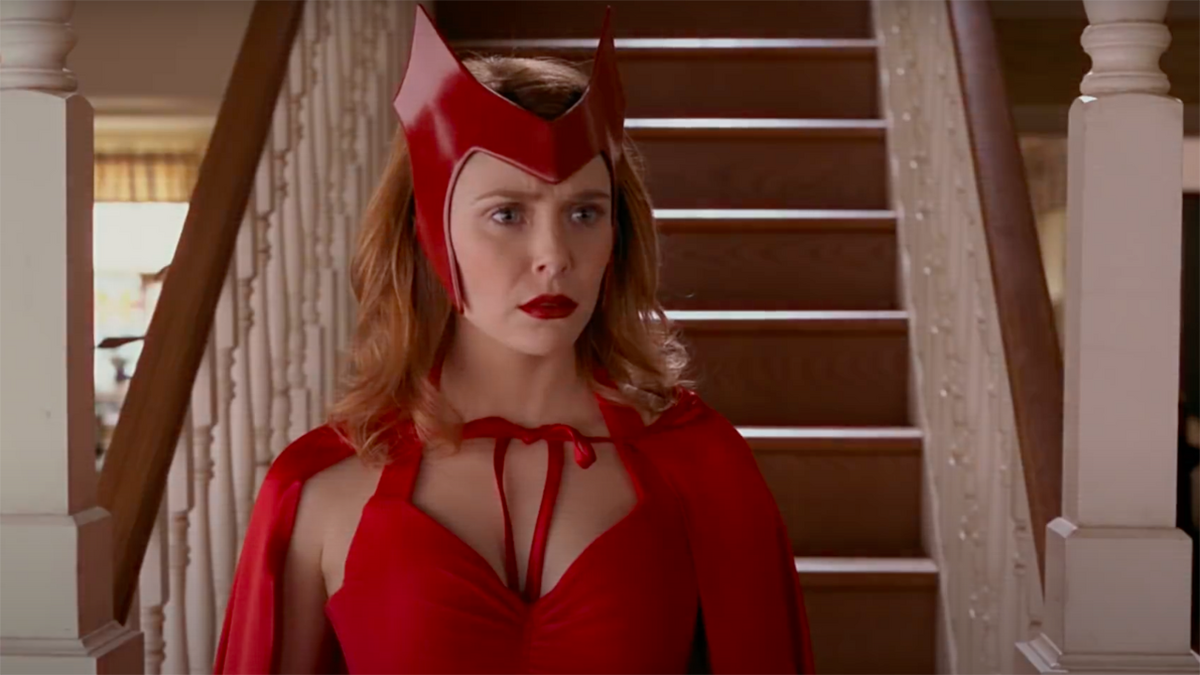 Since WandaVision was announced at San Diego Comic-Con 2019, Kevin Feige has promised this will be the story in which we will see Wanda Maximoff fully become the Scarlet Witch we know from the comics, a moniker she¡¯s never held onscreen in the MCU ¨C which is an interesting thing to ponder, given Wanda is amazingly powerful in the comics but has also caused some major damage at times.
Asked about getting to show this transformation, and if perhaps there might be a scary side to it, Olsen kept coy but said, ¡°I think she comes from such a place of goodness. And it's really a show where?we all get to watch her and process her life experiences with her and that means many things.¡±
Shakman noted, ¡°Wanda and Vision both have made such an impression in such a short amount of time in these movies. They¡¯re the big Avengers movies and there are so many different stories going on and yet somehow Wanda and Vision and their relationship have managed to make such a strong impression. And I think they're both amazing characters and their relationship is really special.¡±
He added, ¡°If you know the comics, the stories about them are really exciting. She is an incredibly powerful figure. We know she almost took down Thanos [in Avengers: Endgame]. She has a great deal of untapped power. And, you know, she's never been called the Scarlet Witch before. We need to figure out who that is and figure out a little bit more about that.¡±
Olsen has already begun work on her next project as Wanda, as she is a part of the cast of Doctor Strange in the Multiverse of Madness, which had recently begun production in London but has had to temporarily shut down to Covid-19 restrictions.?That?film is directed by Sam Raimi, who helped shape the modern superhero film with his work on the?Spider-Man trilogy. Asked what it was like collaborating with Raimi and seeing him return to the world of Marvel, Olsen replied, ¡°It's really incredible getting to work with him. And I loved hearing some of his pre-Kevin Feige Marvel stories, really how it all kind of came to be with the films. And he had some great stories!¡±
I noted that Raimi always has distinct visuals in his films, which seems like a great fit for a Doctor Strange movie, and Olsen remarked, ¡°I do love working with him because of what you're saying, the playfulness of his use of camera. I wish we could be working right now, but we had to pause. But I¡¯ve really loved the small bit of time I've been able to spend with him.¡±
FROM JARVIS TO VISION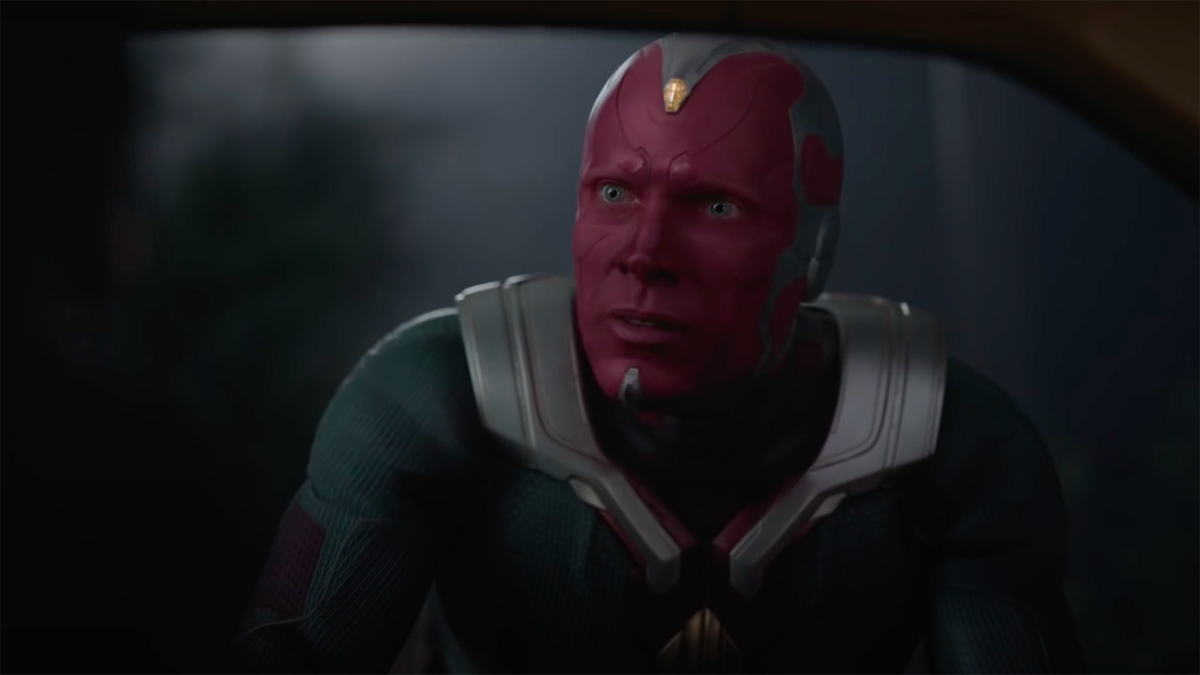 Paul Bettany has been a part of the Marvel Cinematic Universe since the very beginning, but his original role was incredibly different, as he provided the voice of JARVIS in the Iron Man and Avengers films beginning in 2008, only to then make his onscreen debut in 2015¡¯s Avengers: Age of Ultron via a plotline that saw JARVIS included as one of the many elements used to create Vision.
Asked what it was like to see his time in the MCU go from a smaller offscreen role, which required no time on set, to now, 13 years later, finding himself starring as one of the title characters in a TV show, Bettany replied, ¡°Yeah, it's so funny because, of course, for me it's all been happening incrementally. But when somebody like your good self reminds you, you go, ¡®Wow, that is crazy!¡¯ It's crazy that that's how it all happened!¡±
Bettany¡¯s not the only Marvel actor in his household. His wife, Jennifer Connelly, played Betty Rose in Ang Lee's pre-MCU Hulk movie and then joined the MCU proper in Spider-Man: Homecoming via her own voice role as the JARVIS-like AI inside Peter Parker¡¯s suit that Peter named?Karen.
I asked Bettany if we could perhaps see Vision meet Karen one day and he said, with a laugh, ¡°That's such a great idea! Yeah, wouldn¡¯t that be great!¡±
He then imagined Vision pausing and going, ¡°¡­I know that voice!¡±
WandaVision premieres with its first two episodes on Friday, January 15 on Disney+.