SPOILER WARNING: The events of The Falcon and the Winter Soldier?finale are discussed?below.
The Falcon and the Winter Soldier concluded with an eventful hour that found Sam Wilson (Anthony Mackie) solidifying his next step as the new Captain America, a final showdown with the Flag Smashers, a new identity for John Walker (Wyatt Russell), and more.
There*s plenty for the MCU*s future set up here 每 and indeed, news broke in THR mere hours after the finale debuted that a fourth Captain America film was in the works, written by The Falcon and the Winter Soldier*s Malcolm Spellman and Dalan Musson and presumably starring Anthony Mackie.
In the meantime, Fandom spoke to The Falcon and the Winter Soldier?director Kari Skogland about some of the big events that occurred as the series wrapped up, including the importance of Isaiah Bradley to the story, the work that went into Sam Wilson*s new Captain America costume, John Walker*s mindset, and more.
FACING THE TRUTH
A crucial element of the series ended up being Isaiah Bradley, a Black super soldier from the 1950s whose existence had been kept a secret 每 and who brought with him some terrible truths about what the government had done to him and his fellow soldiers.
Skogland had high praise for Carl Lumbly, who played Isaiah, remarking, ※Carl was amazing, obviously. We*ve all seen his work now and not only is he compelling, but what he has to say is super important.§
In the comics, Isaiah*s story was told in the limited series Truth and he had no direct connection to?Sam Wilson's story. Regarding the decision to put him in The Falcon and the Winter Soldier, Skogland explained, ※He came on early on as an idea and we then started to explore where in our storyline he needed to sit. We wanted to really give it importance. I think that was the most critical thing for all of our thinking and to also fold it into the DNA of our story without it feeling like any kind of add-on.§
Isaiah does not directly tie into the main plotlines of the series with the Flag Smashers or John Walker, but his existence and legacy weigh heavily on Sam throughout the series. As Skogland explained, as far as Isaiah*s role in the show, ※We experimented with [something] plot-based but truthfully, it had to be character-story-based, no matter what, so in the character story of it, this became a wonderful touchstone for Sam to explore – to have a Black man tell him 'no self-respecting Black man is going to pick up that shield' and to have a really strong sense of community rejection potentially, so that he understood the magnitude of what could happen from that side of the fence. I think the only person who could*ve said that was Isaiah."
Disney owns the Marvel characters and ultimately, The Falcon and the Winter Soldier is part of the most successful franchise going these days. But Skogland said there was never a question about whether they would touch upon some of the subject matter they did in the series. From her point of view, ※Marvel*s never shied away from important topics and they*ve never shied away from pushing the envelope, so from the beginning, even the very first time we talked about the project, I came in saying &This is most important conversation to be had, through entertainment, of this century* and I think everybody understood from the get-go. There was never any concern about the IP of it or any of that. They just take on great stories and they tell great stories. That*s their only objective, at least that*s been my experience, so as a result we were encouraged to push the envelope and not hold back. I hugely respect Marvel for that position.§
SUITING UP
Ultimately, Sam Wilson decides that he will take on the mantle of Captain America and in the finale, we see him wearing his brand new Cap costume, courtesy of Wakanda, and using a new set of wings the likes of which he*d mastered as the Falcon.
Asked what it was like when Anthony Mackie first walked on set wearing his Captain America costume, Skogland replied, ※It was thrilling. The team had spent months designing it. There*s the fittings and all the details that go into it, as you can imagine. Our costume designer, Michael Crow, he worked to find the kind of material that*s gonna look the best on camera and on the star, the stripes… All of this was months of planning and imagining and building. These suits take several months just to build, let alone to design."
When it came to the response from the cast and crew to seeing the completed costume in action, Skogland said, ※When Anthony walked on set actually wearing it and actually carrying the shield and just doing it like it was very, very natural, as I recollect, we all broke out into applause. It was just a wonderful moment for everybody on set.§
POWERFUL AGENTS
Another key part of the series was John Walker, the government*s pick to be the new Captain America, who crossed a line when he murdered one of the Flag Smashers, Nico, on camera, after his friend and partner Lemar Hoskins/Battlestar?was killed by Karli Morgenthau 每 despite Nico not being the one he was after and having surrendered at the time.
In a moment of truth in the finale, Walker ends up trying to help save a group of hostages rather than stop Karli and the last time we see him, he*s in good spirits, as the mysterious Valentina Allegra de Fontaine gives him a new costume and identity as US Agent. But should we still be worried about John*s state of mind ?
Said Skogland, ※Here*s a guy that*s been through a lot. He*s a soldier, he*s seen a lot# He alludes to it when he*s talking to Lamar and he says, &Yeah, I got that medal of honor for the worst day of my life.*? Whatever happened 每每 we don*t know what went down, but something went down where they did something 每每?the outcome may have been the right outcome, but to get there, as he says, we live in the gray. So he*s going to carry that with him, I*m sure. That*s who he is.§
Skogland added, ※Part of why he was not a good Cap, at the end of the day, is because he, in his soul, doesn*t have the DNA of what it takes to carry the shield without ego, without all this soul of what Sam has as just a plain good person. A hero who wants to negotiate, a hero who isn*t just combative. So he*s coming from a different lane. Not a bad lane – he*s a good guy. But should we be worried? #As we would with anybody. Do they have what it takes? I guess that*s the big question. He didn*t have what it took to be Cap but hopefully he*ll have what it takes in his next life.§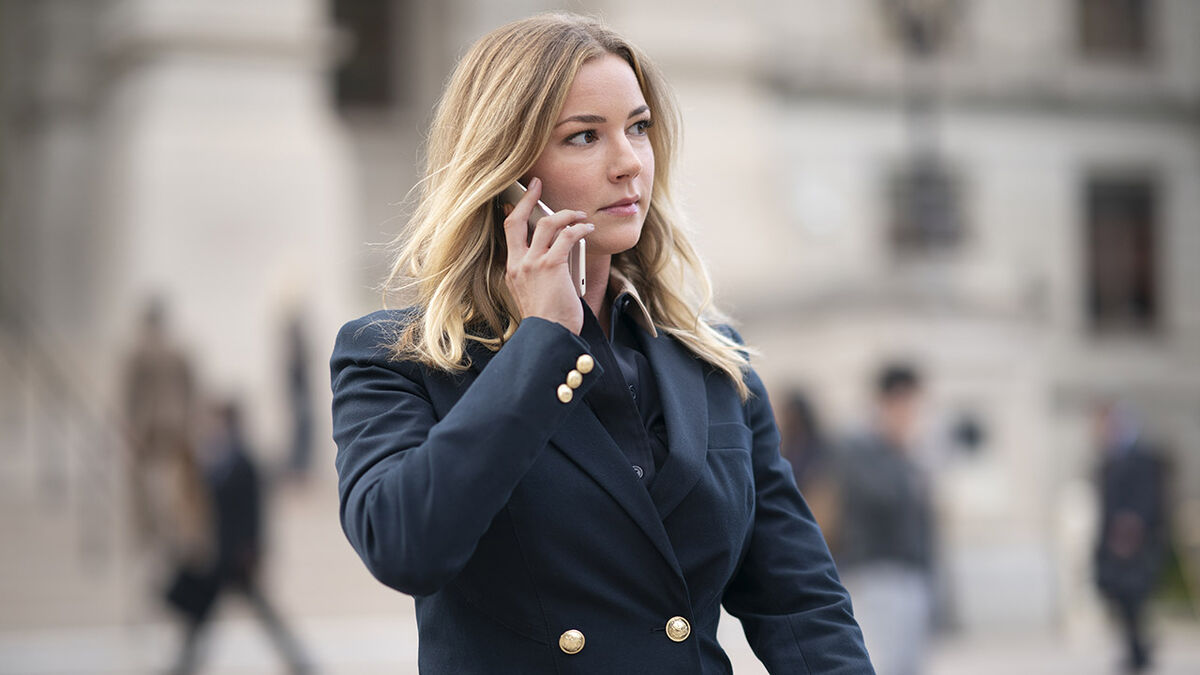 Someone it seems we should definitely be worried about is Sharon Carter, not only revealed as the Power Broker by the end, but seemingly having ※turned heel§ in a larger sense, given she hired Batroc, putting her supposed ally Sam*s life directly in danger.
Skogland remained coy on Sharon*s full motivations at this point, remarking, ※She*s obviously got a very earnest, believable face, but we know she*s capable of quite different things. Now that she*s identified as the Power Broker, what is her intentions? That*s a great cliffhanger and we obviously see that she has capabilities beyond what we expected, so it*ll be a fun ride.§
THAT TITLE CHANGE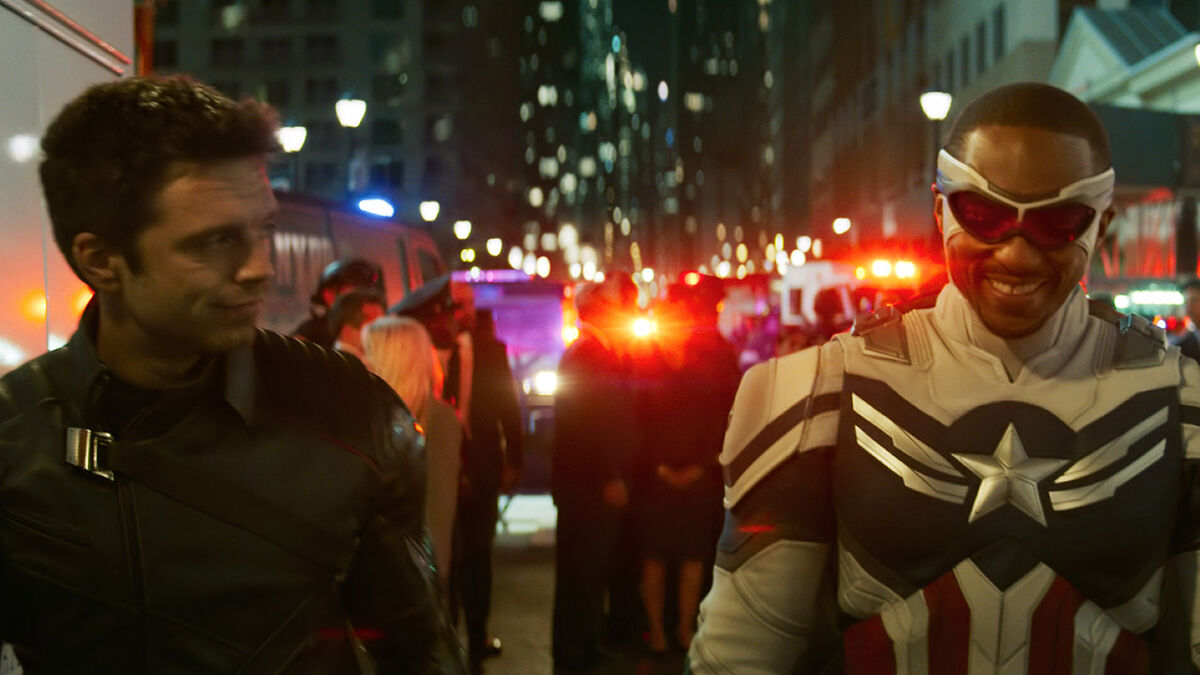 The series ended with a meaningful and emotional title change, as the closing credits now said Captain America and the Winter Soldier, reflecting Sam*s acceptance of his new identity. Skogland said that decision to have that new title and to end on it in the finale was made fairly late in the game, revealing, ※The moment we decided to do that was actually through the post-production process, because even the front title [still saying The Falcon and the Winter Soldier], we worked on different ideas of it and where to put it, because we had the Marvel [logo]l front flip as well, so it was really where best to support the story. It became evident, once we saw all six episodes — which wasn*t until really January/February when we finally had all the editing done and the deck of cards [in place], and we put everything where we wanted it — then it became very obvious that that*s where we wanted to put it, right after we*d just seen the whole series. And then boom, Captain America.§
One question that updated title does bring up is regarding Bucky Barnes, since it still lists him as the Winter Soldier, a name he wishes to move beyond 每 and certainly had done much to atone for.
Skogland said she couldn*t give a specific answer as to why that name didn*t change yet for Bucky, simply adding, ※In terms of the Winter Soldier, more to come.§