In 2018, Mike Flanagan¡¯s acclaimed limited series The Haunting of Hill House was quickly a big attention-getter when it debuted on Netflix, as it told a new version of the classic ghost story by Shirley Jackson. It then spawned a follow-up series telling a different tale, The Haunting of Bly Manor, but now Hill House is opening back up in a very tangible way via a maze at Halloween Horror Nights?event, which is returning at both?Universal Studios Hollywood and Universal Orlando Resort after a year hiatus.
During a recent press preview for the Haunting of Hill House maze at Universal Hollywood, Creative Director and Executive Producer John Murdy?walked us through the many rooms inside, as work was being done to put the finishing touches in before the September 9 opening. Murdy stressed that authenticity to the series was a priority in their approach, and that having been given access to a huge amount of photos and plans for the production, ¡°Pretty much everything you see we sourced from the show itself – like every wallpaper you see in this maze is straight out of the production.¡±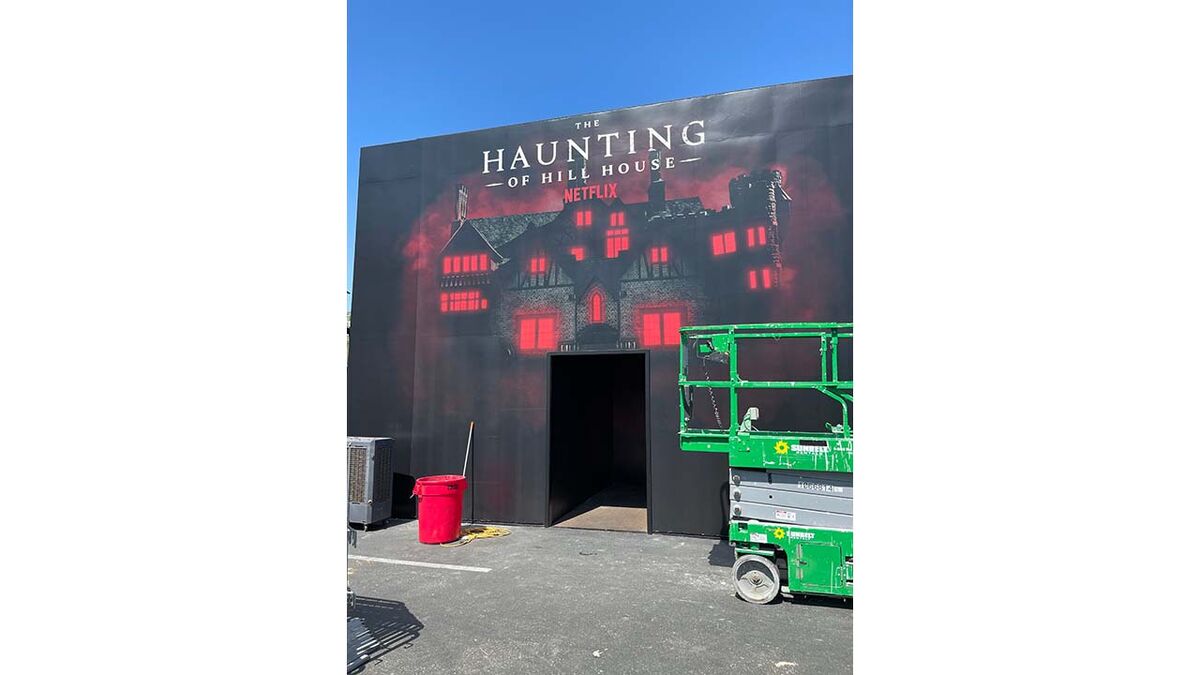 Sound is always key in a Horror Nights maze and Murdy noted that as you travel further in, ¡°You're hearing more and more telltale signs that this is a haunted house; you're hearing the dogs barking in the distance, the freak thunderstorm with hail and the rainstorm hitting the window. And then you start to hear pounding on the walls.¡±
While the famed ¡°scareactor¡± performers are known for big moments jumping out at you, Murdy remarked, ¡°Sometimes stuff [they do] is very subtle,¡± pointing to a doorknob alongside one wall and explaining, ¡°We're just gonna have a performer where their job, when the audio cue comes up, is to twist the doorknob. And you're hearing the pounding coming through the walls.¡±
The Haunting of Hill House was also distinct for how it was set in two different eras and would make some very clever transitions from one era to the other, sometimes even within the same shot ¨C something Murdy said they wanted to evoke in the maze. To achieve this, at one point a scrim will make it appear as though you¡¯re in one era, only for a change in lighting to reveal another beneath it on the wall behind the scrim, showing the older, more decayed house. Said Murdy, ¡°You¡¯re in the past, where the house is all fixed up, and then this entire wall disappears. And you see Poppy, the kind of flapper girl 1920s ghost in the story, and she's walking alongside you saying ¡®They're killing them… they're killing all of them.¡¯¡±
Perhaps the most iconic figure from The Haunting of Hill House became the Bent-Neck Lady and Murdy laughed that figuring out how to depict her was a challenge, because asking an actor to keep their head in that distorted position for hours at a time wouldn¡¯t be possible.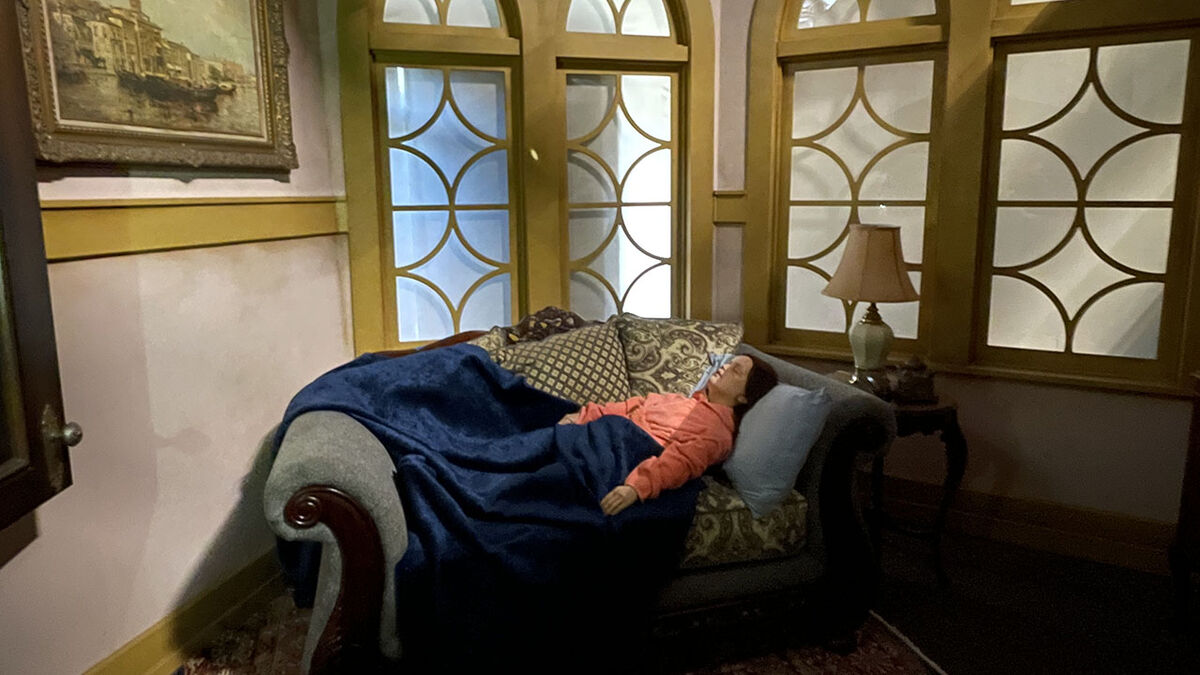 At one point, when the Bare-Neck Lady appears in the maze, Murdy explained, ¡°The actress is wearing an artificial head that's in the position with the broken neck. And then she's wearing a black ninja hood that's the same material as the background that she's standing against. So when we light it through a theatrical scrim, we can make her face disappear and you just see that extreme broken neck.¡± Then, in another scene, a full body figure of the Bare-Neck Lady will be used, to depict her floating above a couch.
The Haunting of Hill House, like most of Flanagan¡¯s work, intermixed truly scary moments with genuine emotion and even outright sadness. As a Horror Nights maze, Murdy noted their first and biggest priority is delivering the scariness, but also, ¡°Everything with this maze was approached to try to pay homage to what he did with the series¡­ It really elevated the horror genre in a lot of ways.¡±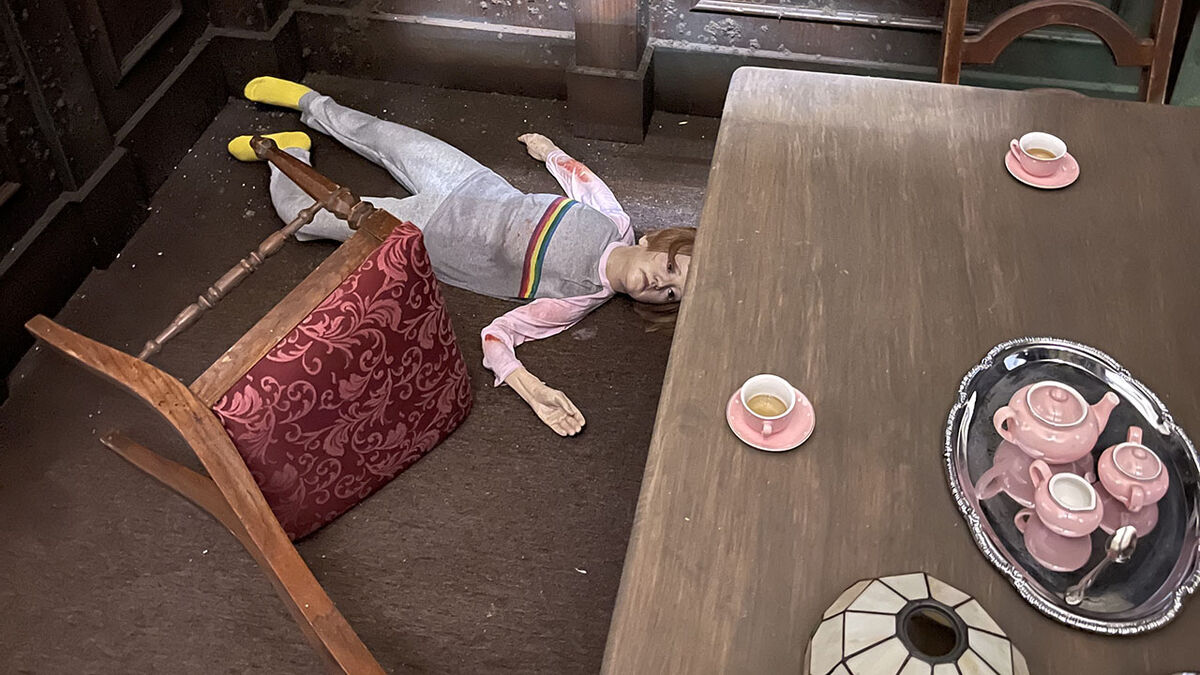 Murdy said he loved the show¡¯s slow burn approach and how you feel for the family at the center of the story, while pointing out, ¡°In a maze, you're condensing all those many hours of television down into a walkthrough experience. So you get those moments of sadness, like Abigail dead on the floor, poisoned by the rat poison, or Nell after she¡¯s hung herself – or had help, depending on your interpretation — but the focus is on being scary.¡±
We spoke to Murdy just a few days after Flanagan had done his own tour of the Hill House maze and when we stopped in the bedroom belonging to the twins, Luke and Nell, Murdy recalled how Flannagan, ¡°Was tripping out over the scene. He was just like, 'Oh my god, this is exactly like it¡­ I feel like I'm on set!'¡±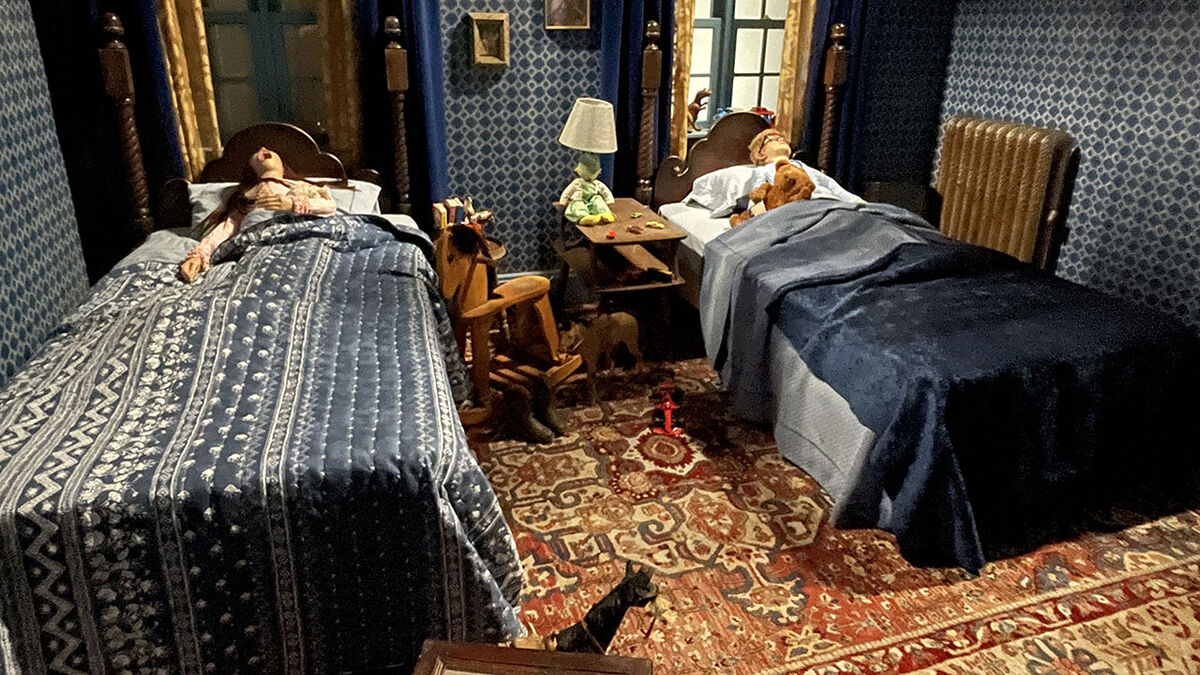 Regarding Covid-19 protocols, attendees will need to wear masks indoors, as is currently mandated in Los Angeles, and while Murdy couldn¡¯t get specific on the scareactors, he said, ¡°We take our lead from the county and the city and whatever is mandated. So whatever comes down the pike, that's what we're doing.¡± Overall though, Murdy said they weren¡¯t concerned about making anything they needed to work, even if that meant performers needed to be in masks.
We also were able to preview the impressive looking The Bride of Frankenstein Lives maze on the same visit, which tells a wild story about the Bride (it involves her becoming a vampire slayer to take on Dracula¡¯s brides!) ?that picks up right where the classic movie ended and is the Bride¡¯s second HHN Hollywood appearance in recent years, after the 2018 Universal Monsters maze, while other mazes this year include The Texas Chainsaw Massacre, Halloween 4: The Return of Michael Myers, and The Exorcist, which interestingly are films that all have been done for the event in previous years, which Murdy said wasn¡¯t a coincidence, even while they were excited to have an IP they¡¯ve never done before with The Haunting of Hill House.
Thanks to Covid-19, Halloween Horror Nights was cancelled completely in 2020 on both coasts ¨C the Universal Studios Hollywood park in fact wouldn¡¯t reopen at all until Spring 2021 ¨C and when it came to finally being back this year, Murdy stated, ¡°I keep saying it's like coming home. It¡¯s like we're comfort food for the horror fans and that's why you're seeing some properties we featured before¡­ Michael Myers, Leatherface, The Exorcist. Our fans were so devastated when the event was canceled in 2020. I know because they're a loud and passionate group and it just ripped their heart out.¡±
He then said the only people who may be more excited to have Horror Nights back than the fans are the performers, so many of whom return year after year to work at HHN, noting, ¡°Some, they've been doing it since they were in their 20s and now they're in their late 30s.¡±
Murdy added, ¡°They¡¯re so passionate about it. I think they¡¯re, more than anything, dying to scare people again.¡±
Halloween Horror Nights 2021 kicks off September 9 at Universal Studios Hollywood (the Orlando edition begins September 3).