Among the many wonders that the latest Marvel Cinematic Universe-set Disney+ series Hawkeye will gift us, one of the most anticipated is arguably an in-universe Broadway production of Rogers: The Musical. Heck, some fans are even calling for it to be an actual thing.
The all-singing, all-dancing spectacle is based around the antics of outgoing Captain America, Steve Rogers, and features a stage version of the climactic Battle of New York. A showdown, you'll remember, first seen in The Avengers, in which the heroes assemble to thwart the Chitauri invasion and Loki's attempt to subjugate Earth. Characters in the musical incorporate all the usual suspects – including Hawkeye himself and his dearly departed BFF Natasha Romanoff, as well as one Avenger who wasn't even involved. That's artistic license for you. And a meta-commentary on the MCU's propensity for playing fast and loose with its comic-book source material.
It's not spoiling anything to tell you that in the first episode, we get to see Clint Barton himself watching the show from the stalls (it's in the trailer). It all looks pretty funny, but Clint's face is a puzzle. Just what is going on in his head?
Well, Jeremy Renner, who plays Barton, and series director and executive producer Rhys Thomas, are here to fill us in on exactly what is going through Barton's mind as he watches. You can watch what they have to say below and in the video above but keep on reading because Hailee Steinfeld, who plays MCU newcomer Kate Bishop in the show, also talks Lucky the Pizza Dog, Kate's taste for teamwork ahead of a potential assembly of the Young Avengers, and more below.
Rogers: The Musical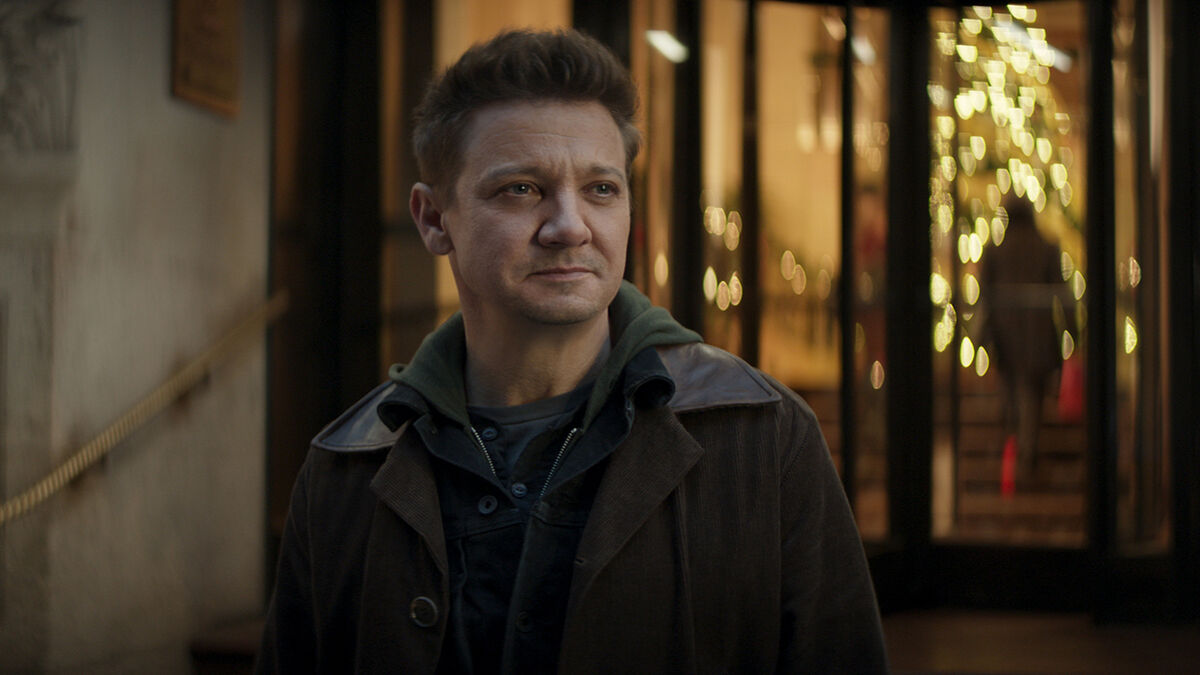 "I remember [the Rogers: The Musical scene] was one of the last things we ended up shooting in the whole show and we did some very long takes," says Renner. "I challenged myself to convey almost every human emotion without any words. That was my challenge and I think they got through quite a few that might be in the show. I haven't seen the final cut of what they used but there's a lot to convey there without saying any words, for sure."
"I challenged myself to convey almost every human emotion without any words." — Jeremy Renner
Watching the events back in this way and seeing a version of Natasha on stage feels like it triggers some PTSD in Clint. Not only sparked by the brutal way in which she died, but also by everything else he's been through since becoming an Avenger. Would Renner agree?
"Yeah! I mean, a whole lot of stuff — and the ridiculousness of it all, and sadness. That was actually a really fun scene to be a part of." He laughs.
Director Rhys Thomas says that despite the silliness of what's playing out in front of him, watching the show does stir deeper feelings in Clint.
Discomfort, Embarrassment, and Trauma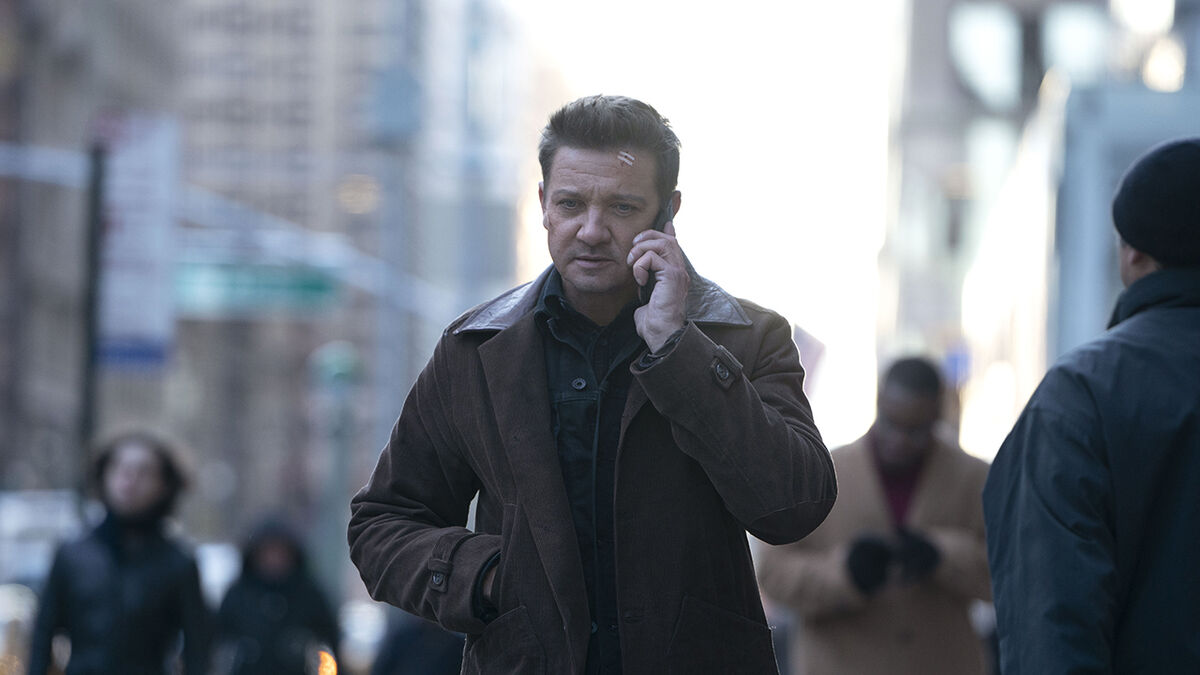 "I think on the surface level, discomfort, and just an embarrassment," Thomas begins. Hawkeye is known for being a more low-key member of the Avengers, happy to keep a low profile as the most 'everyman' persona amongst them. He doesn't have superpowers as such and his family life sits awkwardly alongside his universe-saving shenanigans. We've seen him struggle to balance his life and emotions before and Hawkeye as a series looks set to explore these things further alongside the fallout from what he's been through.
"Obviously, deeper down, [watching the musical] eventually conjures up the emotional connection with Natasha and that trauma [of losing her]," continues Thomas. "That was the fun line with that scene, I think — having this kind of light exterior and a fun sequence but ultimately digging at that other level of Clint that's going on."
"He went thinking that Ant-Man was going to be there." — Rhys Thomas
Was the musical always conceived as a way to broach this?
"This was a silly idea I had early on … to be honest with you, [it was] just an amusing place to meet Clint," says Thomas. "We were trying to figure out why is he in New York? And I felt like the last place that he would want to be would be at a musical starring a version of him, especially about something like the Battle of New York.
"So I remember there was a conception that it was like an opening night that he'd been invited to, and he went thinking that Ant-Man was going to be there and some other Avengers and then showed up and realised that he was the only one that showed up for it — and then had to deal with that discomfort. But it became just a fun thing to do with the kids. It was an excuse to go to New York. What I like about Clint is he's like a regular guy, and he lives on a farm, so it was essentially as though he was offered free tickets to the show and they're the type of family to take it up as an excuse to take some time."
A New Streaming Series to Die Hard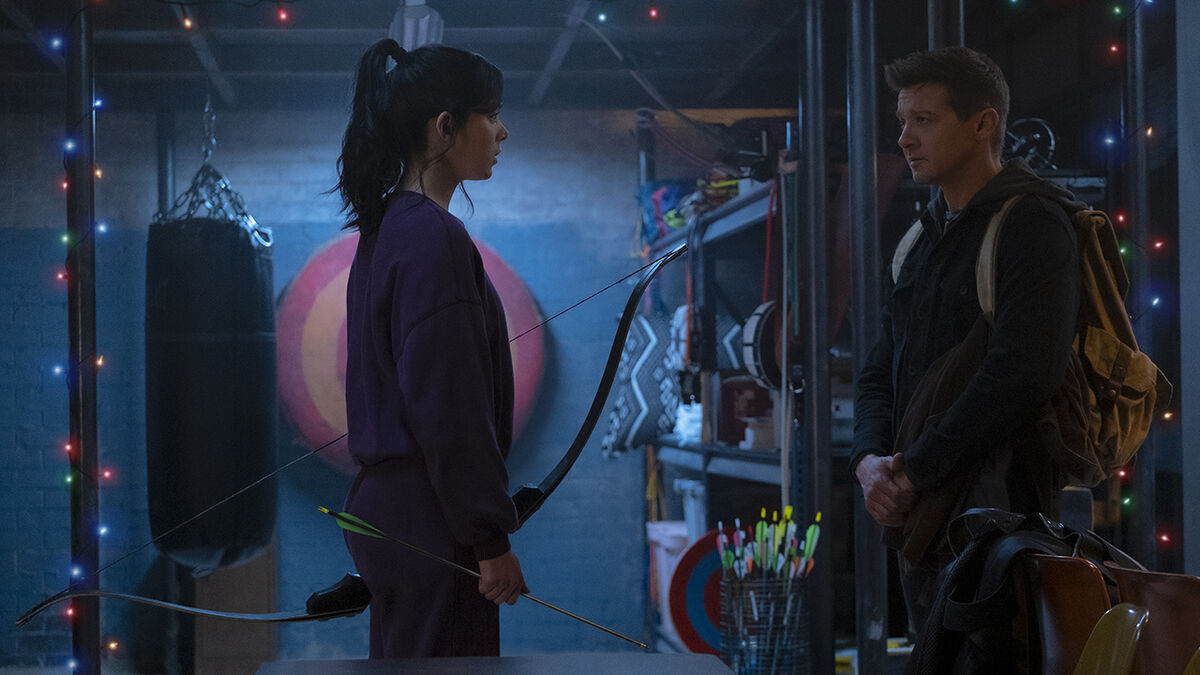 Fans have noticed Clint wearing a hearing aid in the trailers – another signifier of Barton's 'mere mortal', identifiable everyman status. Interesting, then, that there are echoes in Hawkeye of Die Hard, a movie with another aspirational 'reluctant hero' everyman in Bruce Willis's John McClane. Not only are both characters refreshingly ordinary in some ways but they are also thrown into the action almost unwillingly – they have no option but to get stuck in. There's also the fact that both stories are set at Christmas.
Does this mean that Hawkeye will become required holiday viewing for ever more, making it the Die Hard of streaming shows?
"I certainly watched [Die Hard] when prepping for this." — Rhys Thomas
"Oh I hope so that's the dream," says the director. "I don't know if it was conceived that way but I will gladly let people say that. I'm a big fan of Die Hard and definitely lean into the camp of it being a Christmas movie, so I certainly watched it when prepping for this. And also self-consciously don't want to compare it that myself. Big shoes…"
A Very Good Boi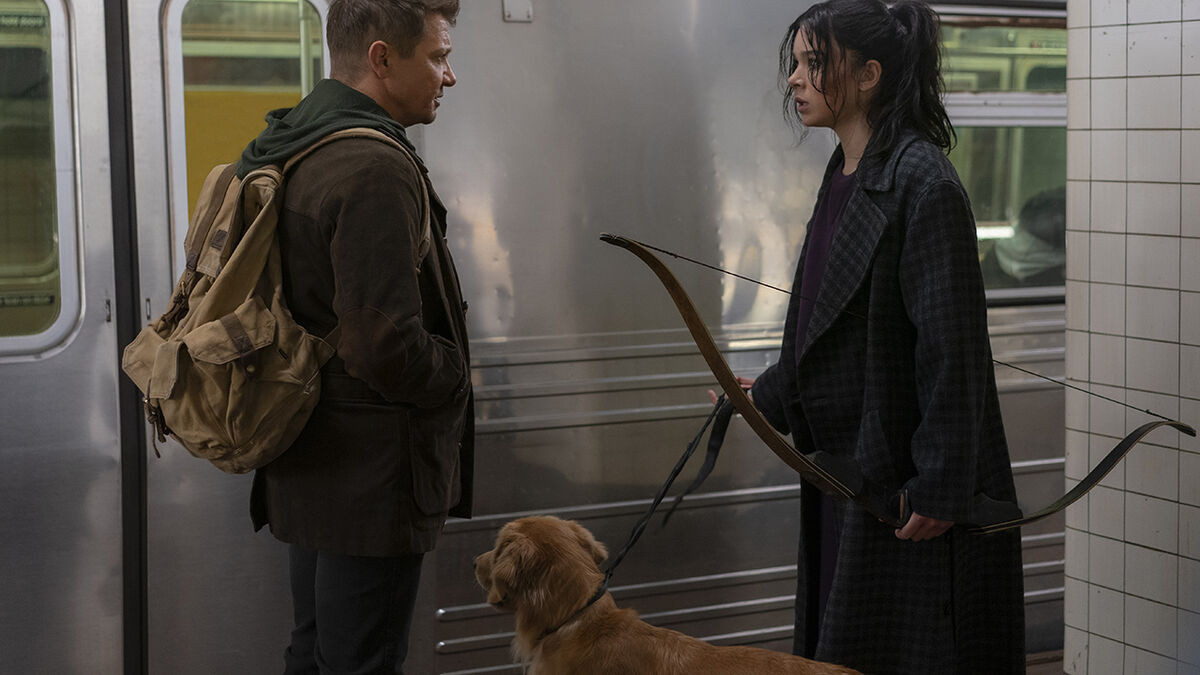 There are no dogs in Die Hard (although, Die Hard with Pugs starring Pug Willis does exist on YouTube), and this is one place where the two diverge. In Hawkeye, we meet the screen version of the comics' Lucky the Pizza Dog – simply referred to as Pizza Dog in the first two episodes of the series – played by a very good boy.
"He's a very good boy … the best boy," says Thomas. "He was really actually surprisingly good. I kinda wish we'd done more with Lucky in the end because I think everybody was a little dubious about how well that would go and it actually went surprisingly well."
Jeremy Renner concurs: "When there's treats around, he's very good … He's a younger pup, too and he did well. Working with a dog can be tricky. He was very kind to us and really he's a sweet, sweet, sweet, sweet dog."
Hailee Steinfeld definitely loved it.
"I kinda wish we'd done more with Lucky." — Rhys Thomas
"I had the best time, I had just recently gotten a puppy of my own and so anytime I was not with her I was with the Pizza Dog … I don't think she was very happy about it because she knew. Part of me was like, 'Oh, she'll never know, she's just in the trailer.' And then I came back smelling like another dog and she knew, she was onto me. But so fun to have, as an animal lover, as a dog lover, this be such a huge part of our show. And yeah, Pizza Dog becomes a companion to both Kate and Clint."
Could Two New MCU Big Hitters Meet?
With Florence Pugh's Yelena Bulova — introduced in Black Widow earlier this year — coming into the show, of course, it tees up the possibility of a mouthwatering encounter between two new MCU big hitters. No, not Bulova and Bishop; Lucky and Fanny, Yelena's American Akita.
Steinfeld says she'd love to see that head-to-head, an encounter Jeremy Renner describes as Godzilla versus Kong. "I don't know if it would be a head-to-head, I think it would be a pleasant meeting of minds," adds Thomas.
Speaking of pleasant meetings of minds – and other skills – with Kate Bishop introduced as a character that many fans recognize as one of the Young Avengers from the comic books, it's topical to wonder whether Hailee Steinfeld would want to explore Kate as part of a team dynamic. Reading between the lines of Steinfeld's answer, you could infer that Hawkeye is paving the way.
"She does feel strongly about the collaboration and about doing something with this person and doing whatever she has to do in her role individually to play a part in this team." — Hailee Steinfeld
"I was able to explore Kate in a sort of a team dynamic with Clint in Hawkeye," she says. "They are a team, they're partners whether or not he's willing to accept it. She does feel strongly about the collaboration and about doing something with this person and doing whatever she has to do in her role individually to play a part in this team. So yeah, I think we get to see a bit of that in this show."
Eagle-eyed viewers might spot an Easter egg in the first couple of episodes that nods obliquely towards the next iteration of Avengers – but we'll leave that for another discussion.
The first two episodes of Hawkeye premiere on Disney+ on November 24, 2021.
For more superhero goodness, read about Marvel's weirdest and wildest character adapted for the screen, below.