Every time a bell rings, an angel gets his wings. "It's one of the most famous lines I think from a movie any time," says Karolyn Grimes, who played young Zuzu Bailey – the little girl who said the line — 75 years ago in Frank Capra's enduring festive classic, It's a Wonderful Life. Grimes is talking to Fandom on the film's 75th anniversary and the angel getting his wings upon the ringing of this particular bell in the scene is Clarence, the wingless trainee guardian from heaven sent to Earth to save James Stewart's innately good but desperate George Bailey from taking his own life.
The film follows Bailey through the years from young boy to middle-aged man as he puts everyone else's needs ahead of his own. We see him sacrifice his dreams in order to help the community of his small hometown against seemingly insurmountable odds as Lionel Barrymore's money-grubbing commercial banker, Henry Potter, attempts to ruin Bailey so that he can own the town and its people.
It is only because of the intervention of Clarence, who shows George what life would be like without him — thereby illustrating the impact of his actions on those around him — that in the end, Bailey is able to see his value and appreciate his place in the world. He comes to understand his purpose, appreciate his lot, and learn that while life doesn't always go to plan, it has a design that might just work out for the best.
Spreading a Powerful Message
Since Grimes was reunited in the mid-1990s with Jimmy Hawkins — who portrayed her younger brother, Tommy, in the film, together playing the children of George and Donna Reed's Mary – the pair have devoted a big proportion of their lives to meeting fans of the film and promoting its life-affirming messages. They're talking to Fandom today to spread them further, and reflect on what it is that has secured the film's lasting legacy.
"I feel honored," says Grimes. "I feel privileged that I was chosen to be that little girl in the movie. It was just an absolute blessing in my life, because I have been living It's A Wonderful Life since [the mid-nineties when they reunited us] … I've been on the road ever since for the film, because it just has so much to give to so many people. You see their faces light up when they see us because we're a part of that film. And it reminds them of the good feelings they have when they watch that movie."
Karolyn and Jimmy regularly show up at an annual festival in celebration of the film held in the town of Seneca Falls in upstate New York, said to be the inspiration for the town of Bedford Falls in the film, which Capra visited while writing the screenplay. They have had countless meaningful interactions with people they meet who love the film.
Bringing Hope
"I've had a lot of people tell me that they have been on that bridge," says Karolyn. In the film, when George Bailey is at his lowest ebb, he contemplates throwing himself from the town's bridge into the icy water below. It's at this point that Clarence intervenes by splashing into the water himself, forcing George's altruistic instincts to kick in and save him instead. It's the jolt he needs.
"Somehow or other, [these people] were able to watch the film. And when they saw the film, it gave them hope. It gave them an opportunity to look at their lives and realize, 'Hey, I'm not as bad off as I thought I was; there's some pluses here, there's some positives,' and they dwelled on that and it turned their whole lives around. I've had so many people tell me that.  That's pretty incredible that this one film can touch lives like that."
"That's the hope that this movie gives [people]. You're important, you can make a difference." — Jimmy Hawkins
"Yes," interjects Jimmy. "They feel a part of humanity, that they are in the big picture."
He adds, "I feel that the message of the movie is what people gravitate to, that each man's life touches so many others. If they weren't around, it would leave an awful hole. And when they watch that film, they [go in] thinking they're leading a mundane life and [that they] don't make a difference. But they do. You take somebody out of that equation and the whole world rocks. And they see that they are important. George Bailey didn't think he was important, but in getting to see what life would have been like if he had never been, he was very grateful to be living and he's sorry that ever thought about committing suicide. He felt so lucky. He and the people see, gee, that guy didn't think he was very important. And look how important he really was. Maybe I am, too. And that's the hope that this movie gives them. You're important, you can make a difference."
Its Message Resonates
Louder Than Ever
The film owes a debt, of course, to Charles Dickens's A Christmas Carol, in which the miserly and joyless Ebenezer Scrooge is forced to re-evaluate when he is shown visions from his past, present, and future by three ghosts. Like It's a Wonderful Life, it's also an enduring festive classic with lessons and messages still relevant today. So much so, the story gets a new adaptation practically every year. Indeed, both films have been re-imagined countless times with each even getting the Muppets treatment — It's a Very Merry Muppet Christmas Movie is loosely based on It's a Wonderful Life. Jason Sudeikis and Mark Hamill only recently starred in an A-List table read of the story as George Bailey and Clarence respectively, too.
"Capra said, 'I think it's the best film I ever made; in fact, I think it's the best film anybody ever made.'" — Jimmy Hawkins
So why do we still clamour to watch It's a Wonderful Life year after year, and why, 75 years on, does it still hold such a special place in our hearts? In a recent Fandom poll, it ranked as the best Christmas movie ever.
"People need that message more than ever now," says Hawkins. "And they need it more and more every year. We've seen [the movie] grow to what it is today. Now, like Capra said, 'I think it's the best film I ever made; in fact, I think it's the best film anybody ever made.' And we're getting to see that [play out]."
The Power to Heal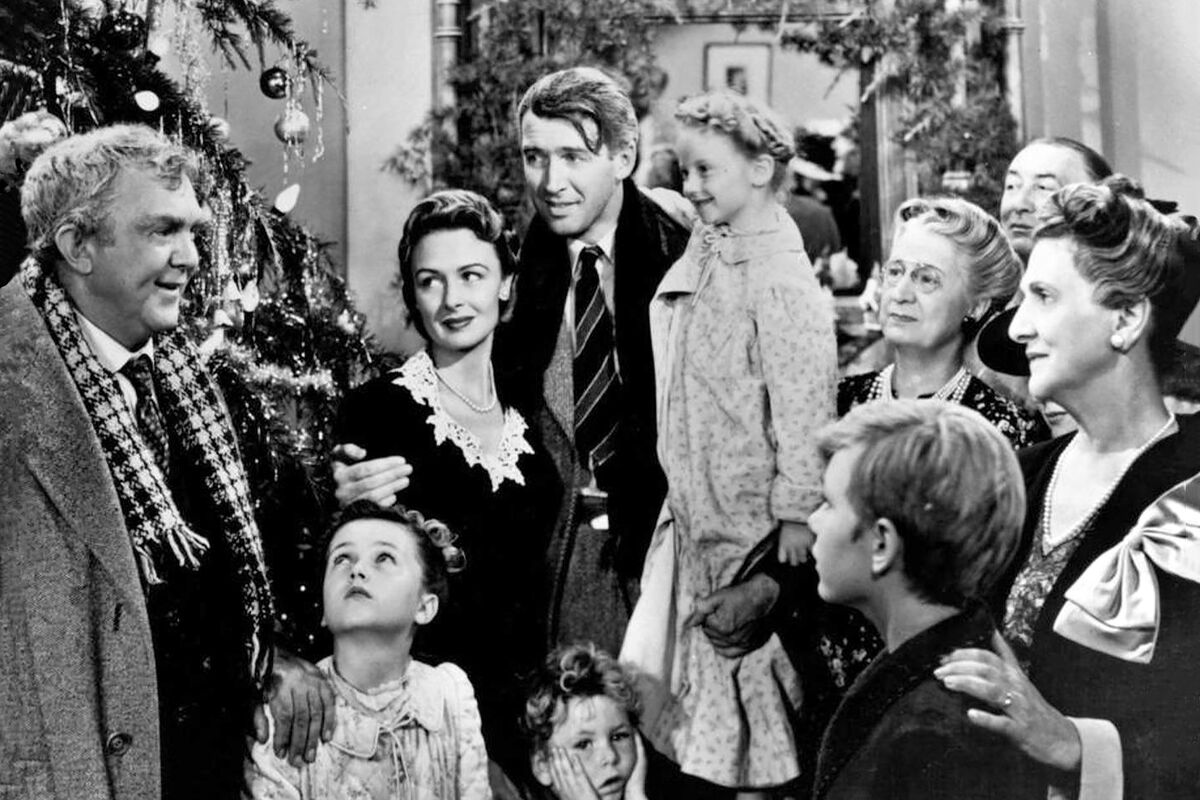 Why do we need that reminder more now than ever?
"Because people don't feel they're important," says Hawkins. "They don't feel they're anything. Nobody is out there telling them, you know, you're doing a good job. But they are doing a good job. George Bailey didn't think he was doing anything. He just reacted when that somebody fell into that water. He just knew he had to get him out. He didn't think about it or anything. He was just a very giving person. He was a true hero. But that's it. That's it. [The film allows] people [to] see 'I am important'."
Jimmy and Karolyn even took the movie to New York's Attica Correctional Facility, one of the United States' most hardcore prisons, to present it to the inmates.
"The [Attica prisoners] led Karolyn and me to believe they wouldn't [reoffend]; they got the message." — Jimmy Hawkins
"We showed the picture to them, and then had a Q&A afterwards," says Jimmy. "And they felt they were lucky. They were like George Bailey, they were getting a second chance. And that's important. Look at these guys. They're really down. But they were given a second chance, by being in the position they were in, to think about it. So when you get out, are you going to do the same thing? They led Karolyn and me to believe they wouldn't; they got the message."
Humble Beginnings
When It's a Wonderful Life was released in 1946, it wasn't a huge hit.
"75 years ago, there was a different audience," explains Jimmy. "And they were looking for a different type of film. Now, the film broke even but it just cost so much to do in the first place that that was a problem. But I think Sheldon Leonard said it best — he played Nick the bartender in the film and became a big producer, director, writer — he told me, 'Jimmy, the movie never changed, the people changed.'"
"The movie was marketed as a romantic comedy. And I don't think it was that." — Karolyn Grimes
"It was also right after the war," adds Karolyn. "People wanted to be entertained. And unfortunately, this was rather a dark movie, it was about a man who's going to commit suicide. So I think that the audience really wasn't ready to receive that. And then those that did go, the movie was marketed as a romantic comedy. And I don't think it was that either. So they were disappointed when they left the theatre because it's an emotional roller coaster. I think that's one of the reasons why wasn't a success."
Coattails, Comedy, and Idiosyncrasy
Aside from the power of its messages, Frank Capra's blend of charming comedic moments and idiosyncratic touches – sometimes conceived in the moment on set – combined with the director's customary attention to detail ensured the film had what it takes to set it apart and make it live forever. There's the memorable swimming pool sequence, in which the dance floor retracts to reveal a pool beneath into which George and Mary fall; and the sassy blossoming relationship between George and Mary in the early part of the film, among others.
Hawkins talks about the scene in which he made his big impression, which he says he remembers filming "vividly". In the sequence, Tommy is seen decorating his father's head with tinsel, tugging on his coattails and digging around in his pocket, and endearingly saying "Excuse me" repeatedly.
"Isn't that funny, a lot of things I don't remember but sitting on Jimmy Stewart's lap, putting tinsel on his head, [I remember vividly]," he says. "When they started the scene, nothing was in the script about [tugging on his coattails]. So when we got out of the living room and started into the kitchen, all the actors were there, Capra said, 'Okay, action, start walking'. So we walked a couple of steps and then he said, 'Everybody freeze, stop'. Then he came over to me and squatted down face to face and said, 'See where we are right here?' I said, 'Yes, sir'. He said, 'I want you to pull on this man's coattails and say excuse me when you get right here. You understand?' I said, 'Yes, sir. Thank you'. 'Okay. All right, everybody, let's keep going.'
"And then he stopped me for the second time, stopped everybody, squatted down, told me, 'See where we are.' Did that three times And then said, 'Okay,' and then they started lighting the scene because everybody saw where everybody was going to be and where everybody was going to stop. And it was very vivid to me. I mean, like it was yesterday, him squatting down and look at me one on one to tell me exactly what to do. And that's what I remember from that."
The Genius of Capra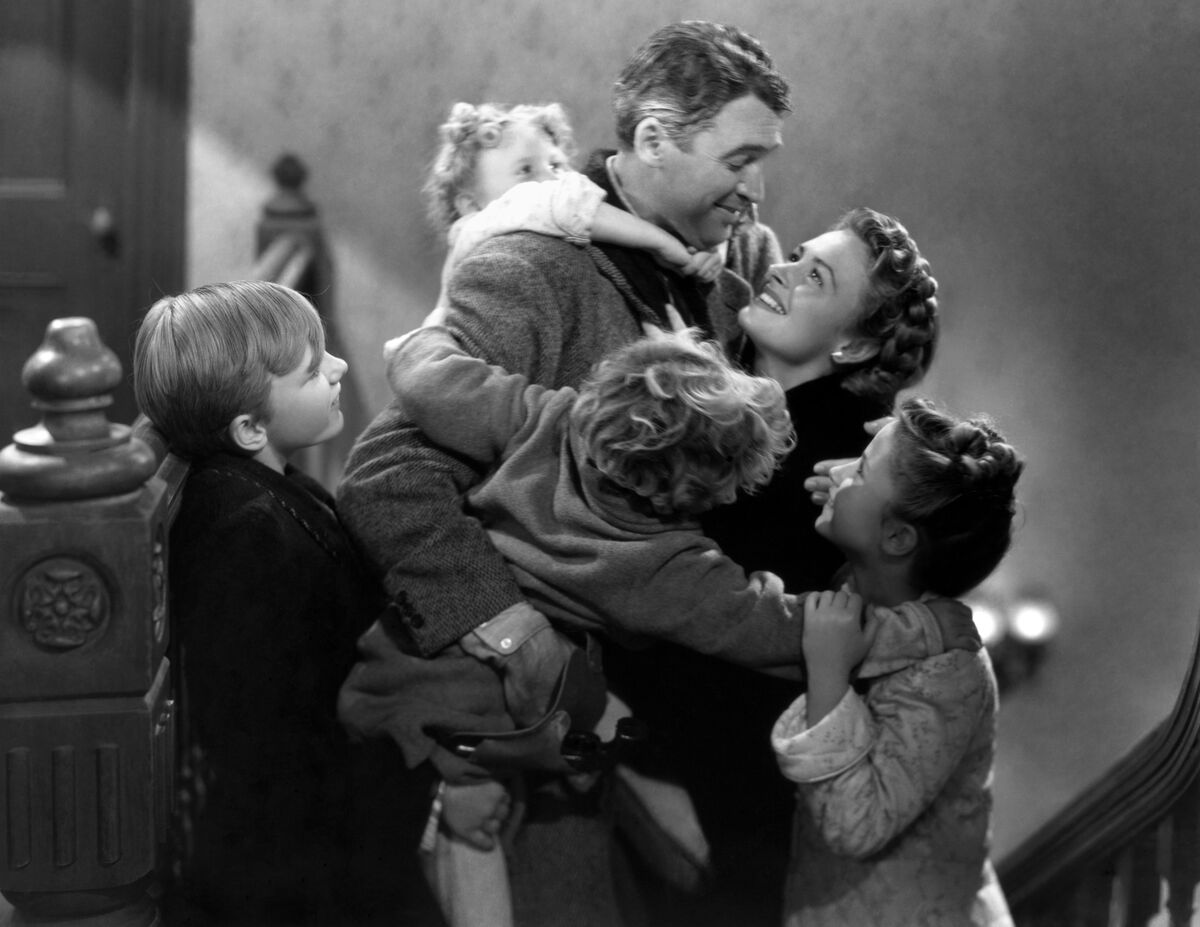 You might have always wondered: What exactly was Tommy hoping to find in his dad's pockets?
"Candy, or gum, or something," Hawkins recalls. "Capra always gave his actors business to do. He kept them busy. He talked to Karolyn about the rose and [told her to] look at the petals [in her big sequence in bed]. And he gave [direction on] all those minute things that kids do when their dad gets home. Tommy's looking [in his pockets as if to say] 'Well, did you bring me anything? No?'"
"[Capra] knew. He knew before he got his wings. He knew that the movie [was beloved]." — Karolyn Grimes
"Capra told me that was the most difficult scene in the movie to direct, with us kids. And I said, 'What's wrong, didn't we do it right?' 'Oh, no, you were great.' He said it just had so many levels to it, and it could have been laughed at instead of laughed with. And it turned out like a real family. Somebody pounding on a piano, a kid asking 'How do you spell this?' and Zuzu's upstairs doing her thing, and it was very family-like. Very. He captured it. He was an artist. What a gifted man. Too bad he isn't here to see what he has done."
Karolyn interjects: "He knew. He knew before he got his wings. He knew that the movie [was beloved]."
"He did, yes," nods Jimmy. "But it just keeps growing since then. I mean, it's just in orbit. Now, it's just like fabric."
Enraptured With James Stewart
Grimes, like the rest of the movie-loving world, remembers an infatuation with James Stewart as she recalls memories of her most significant scene – the bell scene.
"I was so enraptured with Jimmy Stewart," she says. "I was all about him. I just watched him and I enjoyed being on his shoulders and in his arms. I just really thought that he was just very special. So I really didn't pay attention to what I said about the bell. And heaven knows I never expected it to become what it has become today."
"They're still working on [a sequel]. And it may very well happen before I get my wings." — Karolyn Grimes
A sequel to It's a Wonderful Life has been in the works for some time, with Karolyn Grimes attached to it. It could be the biggest gap between franchise installments ever. What's the latest on that?
"They're still working on it. And it may very well happen before I get my wings," says Grimes. "It's the rest of the story. So it doesn't interfere with It's A Wonderful Life. It's just the story of what happens to people afterwards. And it's a pretty good story. I like it a lot. I'm Aunt Zuzu in that movie. It's way down the line."
So it's just waiting to come out now?
"Yes," she says.
Well, who wouldn't be curious to see that?
It's a Wonderful Life is available now on brand new collectible limited edition two-disc Blu-ray. It includes a colourised version of the film as well the original black and white version, and access to a digital copy. You also get a set of collectible recipe cards from Insight Editions' It's a Wonderful Life: The Official Bailey Family Cookbook.  Additionally, the set includes over 45 minutes of previously released bonus content.