For a second, it feels slightly odd when the new?Pixar?film?Turning Red?begins and it¡¯s set in 2002, since it¡¯s easy to think, ¡°But that¡¯s just the recent past!¡± ¡­until the sobering thought that 2002 is 20 years ago hits you.
Turning Red?centers on?Mei Lee?(voiced by?Rosalie Chiang), a 13 year old living a normal life in Toronto – until the day she transforms into a giant red panda. The transformations are a bit Hulk-like, caused by Mei feeling extreme emotions, so she does the best to curb her feelings, even as she discovers that all the women in her family develop this same ability, adding a new complication to her relationship with her mother,?Ming?(Sandra Oh).
Debuting this week on Disney+,?Turning Red?is the feature film debut for director?Domee Shi, who co-wrote the movie with?Julia Cho. Shi has contributed to Pixar films like?Inside Out,?Incredibles 2?and?Toy Story 4?and her 2018 animated short,?Bao, won an Academy Award.
Fandom spoke to Shi and?Turning Red¡¯s producer, Pixar veteran?Lindsey Collins?(WALL?E,?Finding Nemo), about the decision to set the story in 2002, the humorous inclusion of a natural part of life one might not expect to hear discussed in a Disney/Pixar release, and how Billie Eilish and Finneas O¡¯Connell ended up writing songs for the film¡¯s fictional boy band.
WHY 2002?
Shi ¨C who, like Mei, grew up in Toronto ¨C said the decision to set?Turning Red?in 2002 was essentially ingrained in the story from its inception, recalling, ¡°I think we established early on that it was going to be a period piece, in more ways than one. The reason why is because I just have such nostalgic and fond memories of that era and I thought wouldn't it be so fun to bring it to life on the big screen in an animated film. There's something about the culture, the fashion and the music that is just so specific and funny. It was just a really fun and cool time.¡±
The filmmakers said it was also a fascinating time for technology because things were changing so quickly and specifics from that era can feel both familiar and long gone, with Shi noting, ¡°The internet was there and mix CDs and Kazaa were a thing but it was right before the nightmare that is the internet right now with social media.¡±
Added Collins, ¡°The technology was at such an interesting time, because it was kind of modern and yet not?so?distracting, you know?¡±
IT'S THE CYCLE OF LIFE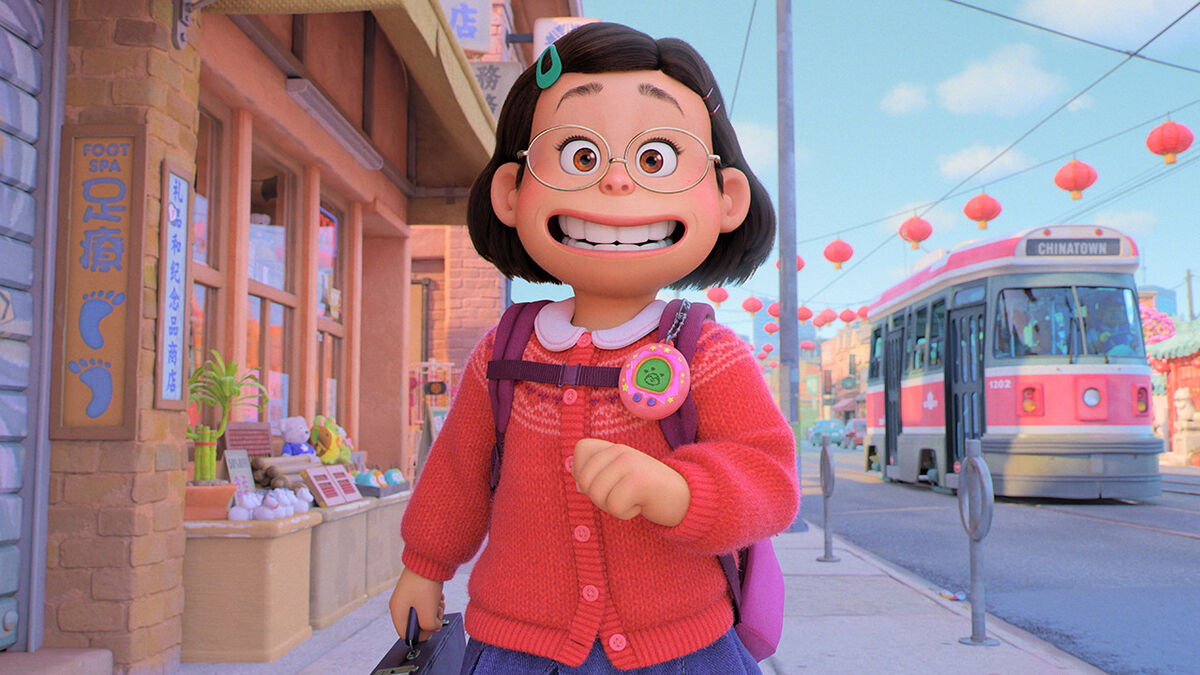 You might have clocked Shi¡¯s ¡°period piece, in more ways than one¡± joke above, which was referring to a plot point in?Turning Red?– which is Ming initially misunderstanding the big changes Mei is going through and instead believing her daughter has gotten her period for the first time.
It¡¯s a very funny bit that adds to Mei¡¯s comical struggles, but it also feels almost groundbreaking, simply because menstrual cycles, as incredibly normal as they are, haven¡¯t been a subject matter evoked in either Walt Disney Animation Studios or Pixar films up until this point. Shi is aware that some are surprised this made it into Turning Red (whose title obviously feels like it has an additional meaning when put into perspective) and said, chuckling, ¡°It's so funny, that scene was one of the first scenes that we wrote and that we approved in the movie to go into production. Weirdly, it just never felt like that big of a deal, the actual subject matter itself.¡±
Shi and Collins have previously mentioned that no one at Pixar or Disney raised objections to this being part of the film and Shi added that for her, ¡°I was just more interested in in embarrassing Mei as much as possible to get her to poof into a panda and [asking] what would be the most awkward situation to put our protagonist through and that came up. I was more focused on just trying to come up with really funny, cringey obstacles for her, versus thinking, 'Is this an edgy moment?' It kind of just came naturally from trying to write the character.¡±
Collins agreed, saying to Shi, ¡°The drug you were always chasing is ¡®What's the most awkward and cringey thing?¡¯ How can we get the audience going, ¡®OH NO!¡¯ and how many times can we really play into that? Because obviously, that's what it feels like all the time to be 13.¡±
RELATABLE CRINGE
Turning Red?does indeed have several hysterical moments ¨C but also sort of horrifying for how comically uncomfortable they are ¨C where Ming terribly embarrasses Mei that will evoke memories for many watching of times parents did or said something that felt absolutely mortifying to you as a kid.
Shi said she certainly looked at her own life for inspiration, explaining, ¡°That whole scene with Mei¡¯s mom hiding behind a tree actually happened to me when I was in middle school, where one of my friends was like, ¡®Who's that lady hiding behind the tree?¡¯ And I look up and it's my mom and she has her sunglasses on. For some reason she thought I wouldn't recognize her with sunglasses on! She was worried about me and she was watching out… just watching out for me, but from behind a tree. Then we embellished it in the movie, like we added a security guard in there.¡±
Of course, the other addition is Mei¡¯s physical reaction to seeing her mom, which is to turn into the panda. As Shi put it, ¡°We added the panda poof, but in that moment, I remember I wanted to implode on the spot. So this is kind of like fulfilling that desire when it actually happened to me.¡±
FINDING THE PANDA¡¯S LOOK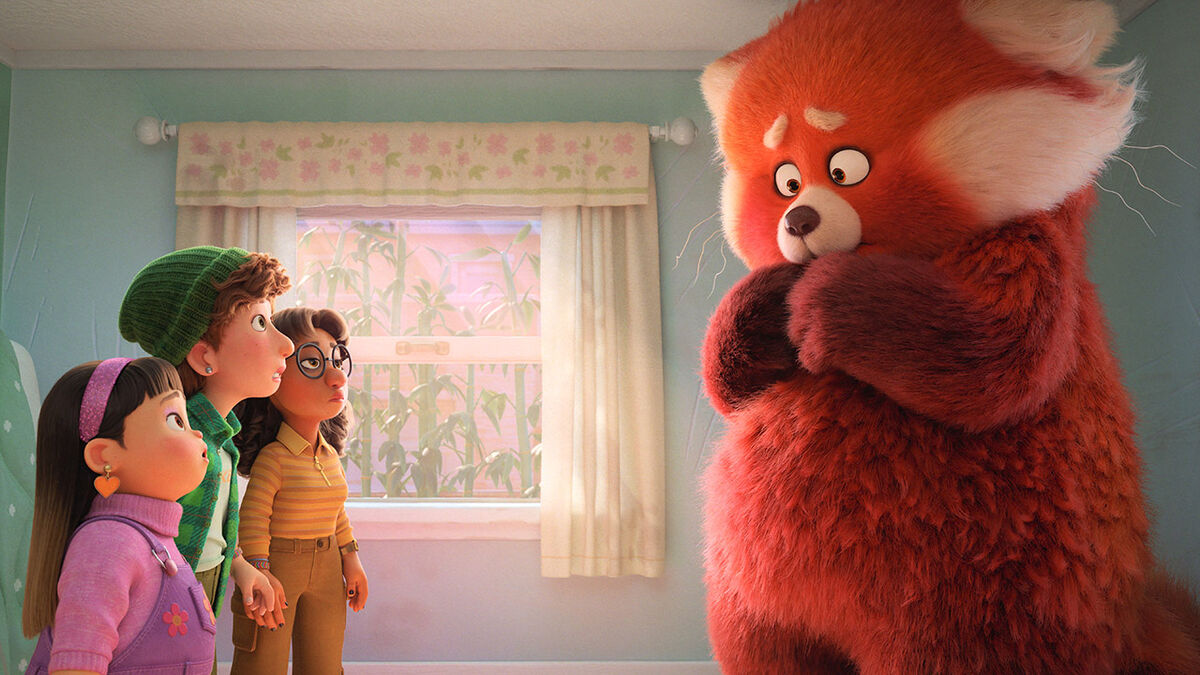 Given it¡¯s the film¡¯s central conceit, Shi said quite a bit of time was spent figuring out just what Mei¡¯s furry alter ego would look like.
Remarked Collins, ¡°The red panda was hard to design. It just was technically challenging. There was the seemingly conflicting desires of wanting her to feel really chunky and pudgy and furry and like you could just grab her and smush her but also she needed to be able to kind of hit these poses and feel realistic to a degree that you could really, truly imagine her walking around and being able to move the way we needed her to move.¡±
The terrific animation in Turning Red is purposefully exaggerated at times, reflecting the heightened emotions of Mei and her friends. Shi said when it came to the panda¡¯s features, ¡°Her mouth was a big challenge because the style of the animation really asks the models to have big shape changes in their mouths; their mouths go really big, but then we really wanted to have other poses where her mouth was completely tucked underneath her little white muzzle. That was a really hard thing to make [happen].¡±
BILLIE¡¯S BOY BAND BOPS
Central to Turning Red¡¯s plot is the obsession Mei and her friends have with ??4*Town, a fictional early 2000s boy band intended for the film. The film includes several very catchy 4*Town songs, which were written by a very notable duo – Billie Eilish and her writing partner (and fellow Grammy-winner), her brother, Finneas O'Connell.
Discussing how Eilish and O¡¯Connell became involved in the film, Collins explained, ¡°I listen to a ton of music. I have three teenagers at home, but I also listen to a ton of music in my own right and in 2016, 2017, ¡®Ocean Eyes¡¯ and [Eilish¡¯s] other stuff, it was played constantly in my house. My kids were talking about Billie because they felt like she was speaking to them. There was a real sense that this is somebody who was speaking to this generation, and I remember feeling that way. When I was 13 or 14 there were these artists or bands that you felt like, ¡®Oh my god, these songs are meant for?me! I've never been on a date, but I'm heartbroken! I know what it feels like to be heartbroken. How? It¡¯s the song!¡¯ And so I think that we kind of went, you know, if we're going to create a boy band, these people are speaking to this generation. That's what we're going for.¡±
Eilish¡¯s own songs don't sound like what one would expect to hear from a boy band, but Collins said they still felt like she and O¡¯Connell could capture that feeling, noting, ¡°Anybody who's read anything or seen interviews with with Billie, she talks about loving Justin Bieber growing up, and that sense of, ¡®Oh my god, I have to go see him in concert!¡¯ We felt like that's exactly what these girls are feeling and going through. So we kind of hoped that [Eilish and O¡¯Connell] would connect at that level. We went down to pitch them and it was such a weird request, but they were like, ¡®Yeah, we're in.¡¯¡±
Turning Red?debuts March 11 on Disney+.