Vanessa Marshall first voiced?Hera Syndulla?on?Star Wars Rebels?and in the years since, has continued to play the character in projects like?Forces of Destiny?and?Star Wars Squadrons. However, Hera¡¯s current role on?Star Wars: The Bad Batch?— in a storyline that began in the show¡¯s eleventh episode last week — is allowing Marshall to depict Hera in a very different way, as we meet her in her youth, still living on?Ryloth.
Speaking to Fandom, Marshall — a huge Star Wars fan herself — laughed that when her agent asked if she¡¯d be interested in reprising Hera for?The Bad Batch, her reply was an instant ¡°Of course!¡± As she explained, ¡°Being?The Clone Wars?nerd that I am, the fact that?The Bad Batch?was even happening at all blew my mind. So there was happiness on so many levels. It was incredible.¡±
Read on for what Marshall had to say about getting to deconstruct Hera and the character¡¯s ongoing role in Star Wars.
A YOUNGER HERA
The big difference between this incarnation of Hera and the version Marshall voiced in?Rebels?(not to mention in other projects) is how young and inexperienced she is, as we meet her long before she becomes a seasoned pilot and Rebel leader. Said Marshall, ¡°What a transformation – that she goes from this aspiring pilot who understands so many spiritual elements of flight at such a young age. She¡¯s so wise beyond her years. You can see the seedlings of her own sort of rebellion against her father and yet how much she is exactly like her dad and that very tender moment where he says ¡®I hope you never have to live a life like mine.¡¯ Knowing where she ends up, I just delighted in the words.¡±
One other obvious difference for Marshall this time out is the Ryloth accent she uses as the young Hera among her fellow?Twi'lek, which ¨C as established in?Star Wars: The Clone Wars?¨C is essentially what we know as a French accent. This was right in Marshall¡¯s wheelhouse, as she explained, ¡°I¡¯m fluent in French and thought, ¡®Well, we¡¯ll finally make use of that!¡¯
Marshall remarked, ¡°It was fun to explore both the accent and also her innocence and what the timbre of her voice might be. I kept checking in with?Brad [Rau], the director, who is incredible, and asking him, ¡®Do you need more accent or less accent?¡¯ We¡¯d discuss things like ¡®Hera is such a strong character, why don¡¯t we take this down a few notches? We know where she lands ultimately so maybe it¡¯s more interesting and she doesn¡¯t quite know how to speak to her father at this point.¡¯ So we played with every scene and discovered where she was meant to be together. It was a lovely experience. I was so honored to be asked and thrilled that we got to do it.¡±
OMEGA EFFECT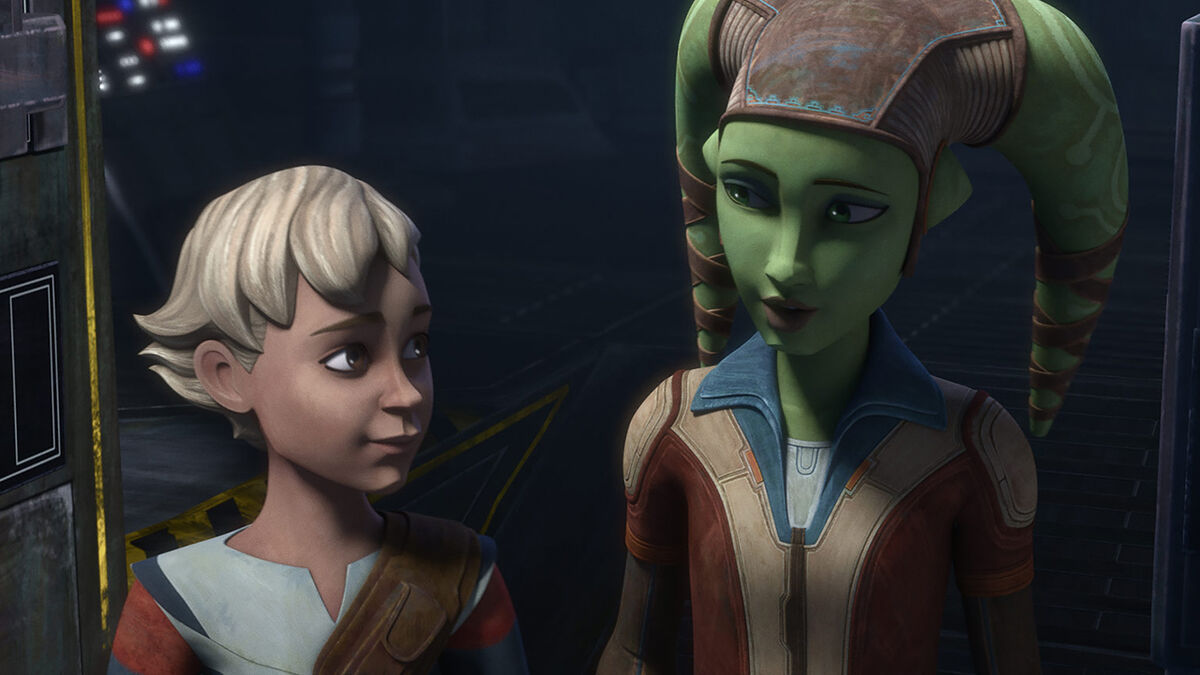 Unlike viewers watching the episodes as they air, Marshall wasn¡¯t aware of the full storyline of?The Bad Batch?prior to coming in to record, noting, ¡°I had no idea what occurred prior. I just knew that Dee Bradley Baker [who voices The Bad Batch] was my higher power. Having said that, I thought ¡®Who is this?Omega?!¡¯ She¡¯s so cool.¡±
Of course, now that she actually has seen the earlier episodes, she said her perspective has changed to, ¡°Oh my gosh, I¡¯m talking to?Omega!¡¯
On Fandom¡¯s Star Wars wiki,?Wookieepedia, many fans shared Marshall¡¯s excitement over the Hera/Omega pairing, with?Lost Jagger?writing, ¡°I didn¡¯t think we¡¯d ever see young Hera interact with Omega, but it was sweet,¡± while?Skomoe wrote, ¡°It was nice to see Hera and Omega talk and interact with each other. I especially liked when Omega showed Hera a ship can also be a family home, a moment crucial to her future.¡±
Marshall noted that when she recorded her episodes,?¡°They told me who [Omega] was within the story but there¡¯s nothing like watching the animation and seeing the conversation that I recorded with her now and loving every moment of it because I love Omega and admire her as much as Hera did in that moment. It was a really cool experience to fangirl out.¡±
HERA¡¯S FAMILY
This Ryloth storyline is giving fans greater insight into Hera¡¯s family dynamic, with?Jo282ey?writing, ¡°Not only did I relish seeing one of the most amazing characters of the franchise in a younger, more impulsive spirit, but I enjoyed seeing the family dynamic of her with Cham, his wife, and Hera. Seeing that Hera struggled with her bonds with her loved ones makes her role as ¡®the mother¡¯ in?Rebels?more powerful.¡±
For her part, Marshall said, ¡°I¡¯ve always been curious about this time period. We could have guessed some of what we saw to a certain extent, given the fight she and her dad [Cham] have in?Rebels, but she must have left somehow and for some reason and where did she learn about flight and this and that? To actually get specific details, to see her relationship with her uncle [Gobi]… I love that she has this cool uncle and to see that she had sort of an ally and that it wasn¡¯t necessarily her father. The family dynamics were incredible."
Marshall added she was very glad to see Hera and her mother?Eleni?together and how it evoked a certain treasured Syndulla family?heirloom,?noting in?Rebels, ¡°Hera loses the?Kalikori?to?Thrawn, as we see later. Eleni is not making the?Kalikori?in this episode [of?The Bad Batch]. But the fact that we know that she does and that it gets taken… When I was watching the family scenes, even between Cham and Eleni, she has a voice and an opinion that matters. And for me, I missed Eleni even more, because I know in?Rebels?Hera misses her family. It was just so wonderful to get very specific scenes to help us understand what we already saw and enriched the entire narrative for me personally."
HERA CONTINUES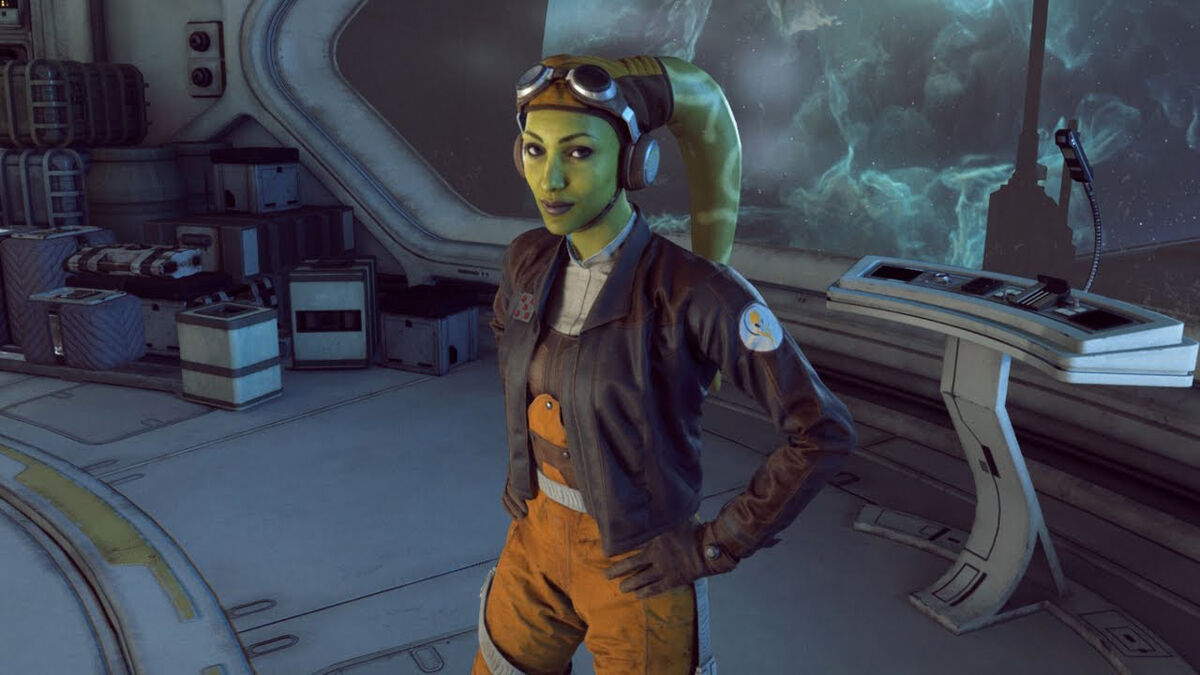 Beyond seeing Hera again in animation, video games, and comics, the character has received some shoutouts in live action media as well, including in?Rogue One, when we heard her referred to as ¡°General?Syndulla¡± on the?Rebel base?on?Yavin 4?(not to mention saw her beloved droid,?Chopper, make a cameo).
Marshall joked,?¡°As far as a life insurance policy goes,?Rogue One?was really great!,¡± noting it meant her character at least was guaranteed to survive the events of?Rebels?– and that was before the end of Rebels confirmed Hera made it through the entire original trilogy. Regarding what it¡¯s been like seeing the character continue on in so many ways now through the years, she remarked, ¡°I have to pinch myself constantly, all throughout the experience. To get to see that in the movies that I saw long ago… that Hera lived through them and beyond them, I¡¯ll never forget watching any and all of that. It¡¯s just such a feeling of humility. I¡¯m humbled by it and so grateful. I¡¯m glad that she remains an interesting character and that people feel the way about her the way I did. I really respect her and often ask myself ¡®What would Hera do?¡¯ And go from there.¡±
We know Hera not only survived the war with the Empire depicted in the original trilogy but had a son,?Jacen, fathered by?Kanan Jarrus. A few appearances aside though, including in?Squadons, things get murkier as we continue further beyond that, and there are questions raised by Hera¡¯s ship,?the Ghost, taking part in the final battle in?The Rise of Skywalker. Just who is piloting the Ghost by that point?
When it comes to those questions about Hera¡¯s fate up through the sequel trilogy time period, Marshall reveals, ¡°I¡¯ve never asked. I don¡¯t want to know. I am so in love with all the content that¡¯s coming out. I don¡¯t like spoilers. I don¡¯t like spoiling it for anybody. I don¡¯t need to know. I savor every moment that I get to turn on Disney+ and my ipad explodes. So, no, I never ask those questions, but I get asked those questions often and I say, ¡®You have to ask Dave Filoni! I have no idea.¡¯ I trust the process and I¡¯m delighted every time, so it¡¯s worth it. You should see by my bed, I have so many Star Wars books. My iPad is sitting on the?Thrawn Ascendency?book?Greater Good?by Timothy Zahn. It¡¯s everywhere!"
New?Star Wars: The Bad Batch?episodes debut Fridays on Disney+.