After its two-episode premiere, WandaVision?has got plenty of people talking, now that we¡¯ve returned to the MCU in a very intriguing and unusual way ¨C with Wanda (Elizabeth Olsen) and Vision (Paul Bettany) living out their lives inside the trappings of a classic sitcom.
Already we¡¯ve seen that sitcom evolve though, moving from the style of the 1950s and early 1960s of The Dick Van Dyke Show to the mid to late 60s vibe of Bewitched, complete with the addition of color by episode two¡¯s ending, after the series had been in black and white up until that point.
Wanda and Vision¡¯s lives in Westview, NJ include several prominent neighbors but while most of the time the locals seem to be filling a sort of designated sitcom role, there have been moments where we have begun to see that more than one of them have some understanding that things aren't right.
Fandom spoke to two of Westview's prominent citizens, Kathryn Hahn (¡°Agnes¡±) and Debra Jo Rupp (¡°Mrs. Hart¡±), about life in WandaVision.
HOW TO PLAY IT
Between Hahn's frequent scene-stealing TV guest appearances and roles like Parks and Recreation's?Jen Barkley?and Rupp's 8-year stint as Kitty Forman on?That 70s Show (not to mention playing Friends'?Alice Knight-Buffay), the two?have a ton of experience in TV comedy, but with WandaVision, there are multiple levels at work ¨C there are the sitcom characters we're seeing but then there¡¯s the ¡°something is off here¡± feel of the entire show, as we glimpse behind the curtain that someone is observing the entire situation and trying to communicate with Wanda.
Said Hahn, ¡°When I was pitched this show I knew that we were kinda be going down these different genres and I knew that this was the trope that we were gonna be following along WandaVision¡¯s journey with.¡± When it came to evoking older sitcoms, Hahn noted, ¡°I kind of had it embedded in my subconscious, I¡¯m sure, as a kid growing up in the 80s; I know that laugh track, I ?have those characters in my head, so I was able to really quickly tap in to like what was needed for that part.¡±
Agnes is the classic sitcom nosy neighbor and Hahn remarked, ¡°You know, she¡¯s like the confidant of Wanda and she also just kinda shows up uninvited. She wants to gossip, she wants to give advice, warranted or not. She was a lot of fun to play in those ways, and also because I was able to swing through different genres, which is a really fun thing to do.¡±
Though she was being asked to evoke the past, Rupp said she felt pretty at home as Mrs. Hart, the wife of Vision¡¯s boss, Mr. Hart?(Fred Melamed), noting, ¡°It was not that different because That 70¡¯s Show was a period [setting], so I was used to doing that. My biggest job was figuring out what a woman¡¯s role was in that decade so that I could get into that mindset, that¡¯s what I had to. Everything else, the writing, was spot on.¡±
The first episode of WandaVision was shot in front of a studio audience and Rupp added, ¡°The audience was with us, so it was easy for me. When a job is easy, there¡¯s always a safety in that, and there¡¯s a joy in that, and that¡¯s what it was for me.¡±
THE MYSTERY UNDERNEATH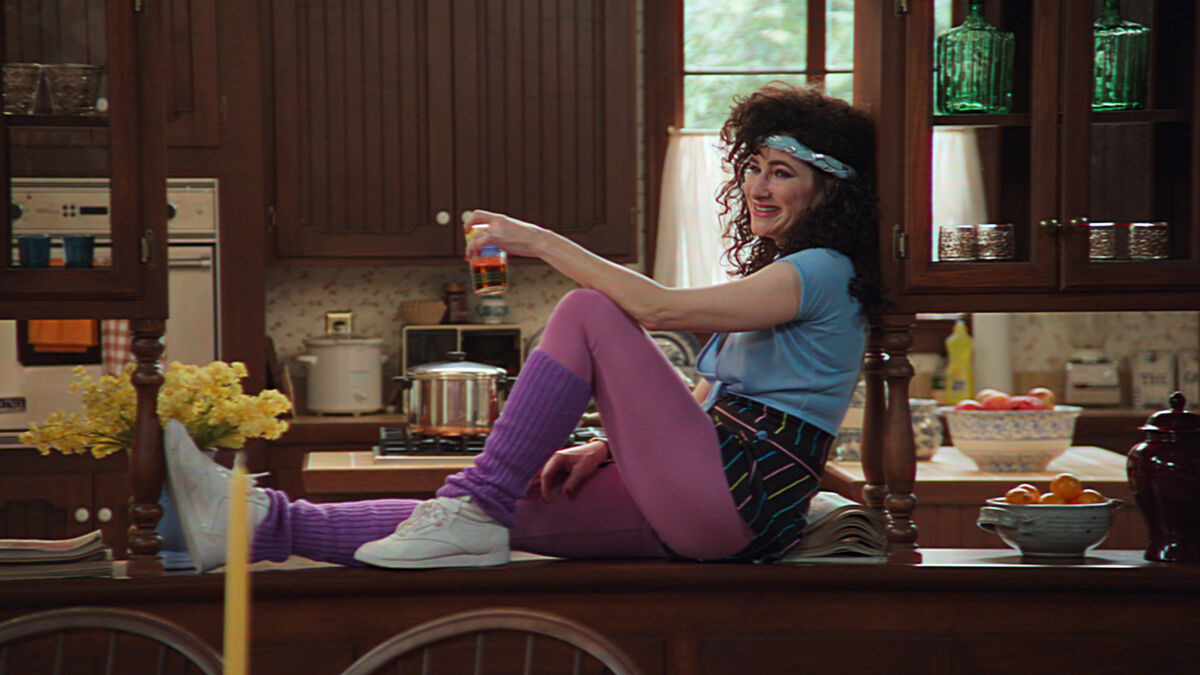 Rupp said that when it came to the extra mystery level of WandaVision and how to approach that in her performance, ¡°I always did it with the [added] level because that¡¯s ¡®reality¡¯ you know? The one thing that I found out about Marvel is that nothing is as it seems and that was also my character so it was really fun. In a way it was deeper than doing a comedic sitcom to me, because there was something very dramatic happening at the same time.¡±
Said Hahn, of keeping those multiple levels in mind, ¡°I think that that¡¯s also what drew me [to it] and the excitement that I have for this show, especially because I¡¯ve only watched the first three [episodes] finished, but I know all of it¡­ But I would say that the thing that is the most exciting is that it plays it so straight. I was so impressed with how straight it's played in the 50s and the 60s [setting]."
Hanh remarked, "You know something else is happening; you know that it's not on one level. You feel the tension, but it just keeps shifting your comfort in ways that are gonna pay off. I love that tension that it builds, so when the lid comes off in those little moments, it makes it even that much more satisfying.¡±
HARTACHE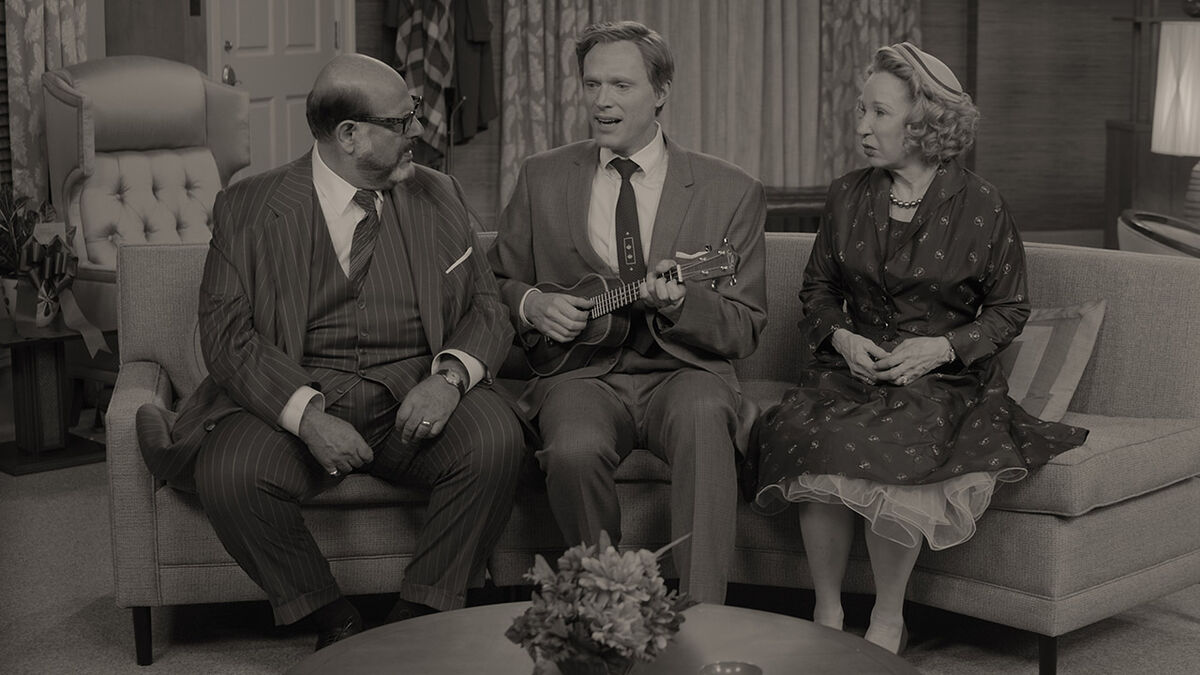 Aside from the oddity of the Stark-produced toaster commercial mid-way through, the first time we see the sitcom lid come off, as Hanh put it, is near the end of WandaVision's first episode, when a comedic sequence about Vision and Wanda attempting to impress Mr. and Mrs. Hart with a dinner Wanda wasn¡¯t prepared for turns ominous when Mr. Hart begins to choke ¨C and then things quickly turn creepy as Mrs. Hart, at first thinking her husband is joking but then realizing he is in trouble, keeps smiling but intoning ¡°Stop, stop, stop!¡± in an increasingly panicked tone, looking right at Wanda.
When it came to filming that scene, Rupp said, ¡°I think it's the most fun that I¡¯ve ever had. I got to chew the scenery. I got to do eight million things at one time! I loved it. I loved it and I also knew the impact.¡± As noted, this is the first crack in the fa?ade we see, and Rupp remarked, ¡°I knew what it was saying. It was exciting to be the crack! It was really good.¡±
Rupp noted she had no real knowledge of the MCU prior to the series and recalled how her teenage great nephew was adamant she take the role. She had a lot of praise for WandaVision¡¯s director, Matt Shakman, explaining that when it came to the dinner table scene, ¡°Matt is the one that pulled me through that. When you read it on a piece of paper, you have no idea what it's talking about. You don¡¯t know what you¡¯re supposed to be doing, so Matt was the one who had to communicate that to me, because I kept going, ¡®Wait, what?' And then finally I got it and that¡¯s what you see.¡±
New episodes of WandaVision debut Fridays on Disney+.