Marvel¡¯s The Falcon and the Winter Soldier has taken its heroes, Sam Wilson and Bucky Barnes, all over the world during their mission to stop revolutionary Karli Morgenthau and her increasingly violent Flag Smashers. It¡¯s a high-stakes adventure featuring soaring aerial battles, rough-and-tumble Super Soldier fight scenes, and even a fair share of boat fixing!
From Sam¡¯s Louisiana coastal community to the vibrant and lawless land of Madripoor, director of photography, P.J. Dillon (Game of Thrones, Vikings) has worked diligently to bring it all to life and with one episode left in the series, as we sit on the precipice of learning the ultimate fate of Steve Rogers' shield, he spoke with Fandom about his work on the MCU series. And, of course, the Zemo Dance?!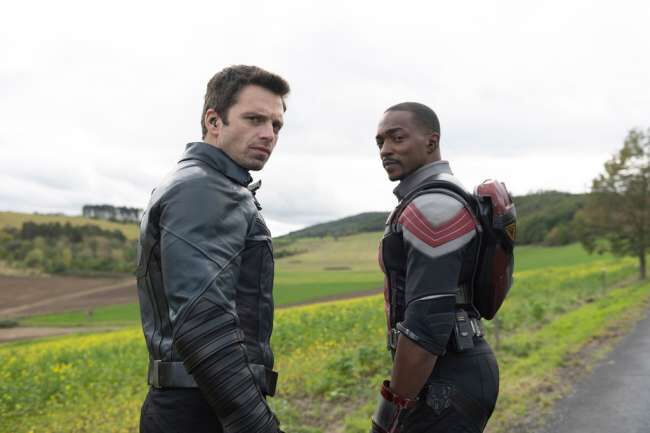 STOP… ZEMO TIME!
The Marvel land of Madripoor was introduced in The Falcon and the Winter Soldier, and almost immediately felt like an alien world among the rest of the settings on the series. The lawless location has played a big role in the comics — including as a frequent home-away-from-home for Wolverine — so bringing it to the MCU for the first time was a big deal.
¡°When I came on board, Kari [Skogland, director] and Ray Chan, our production designer, had already done a lot of work on Madripoor,¡± Dillon explained. ¡°So they had an extensive look book and a lot of references. Mostly photographic references. And then based on that, Ray worked closely with Kevin [Feige] to develop the concept art. Once the concept art was approved, my job was really to execute that and to bring it to life. And with the help of a wonderful team of electricians and a wonderful gaffer and his crew, I think we did a great job.¡±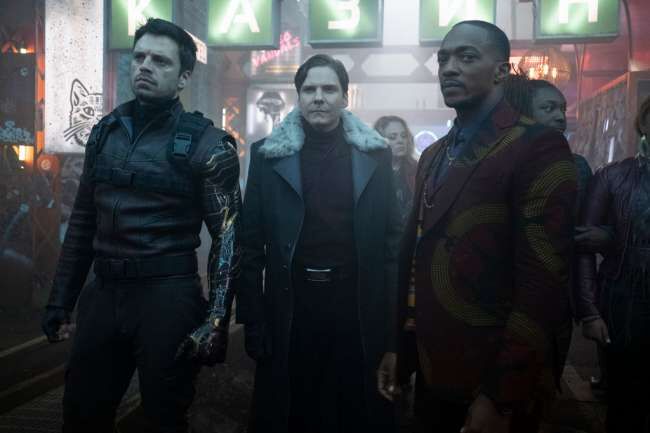 ¡°Very consciously, we were trying to create that idea of somewhere dangerous and lawless,¡± Dillon added. ¡°We weren¡¯t really sure when we were shooting it if we¡¯d made the right choices or if we¡¯d gone too far, whether it could sit comfortably within the show, but I was actually really pleased with how it turned out. Yeah, what also helped enormously was the wonderful VFX work and the CG work. We shot material and then Marvel VFX developed it and extended it. I thought it turned out really well.¡±
One standout moment, from the mostly Madripoor-set Episode 3 (¡°Power Broker"), was Daniel Br¨¹hl briefly dancing as Baron Zemo, a quick shot that became so popular online that Marvel very quickly released extra footage of the partying. ¡°I think it was a little unexpected,¡± Dillon said. ¡°I think it would have been Daniel and Kari who would have been more aware of what they were doing, but for me it was just good fun.¡±
¡°It was a little spontaneous, to be honest. But once we saw it happening and started filming it we kind of knew there was something special there.¡±
A STAR-SPANGLED LEGACY
Given that this was Dillon¡¯s first foray into the MCU as a DP, he wanted to make sure he did the franchise proud. ¡°I watched all of the movies before we started shooting, and obviously the Captain America and Avengers movies several times, so I would be well-versed in the history of those and the visual history of those. We made a choice very early on that we would shoot in widescreen anamorphic because that¡¯s how those movies were shot. To try and continue the legacy — even though we were doing a TV show — of the wonderful cinematography in those movies.¡±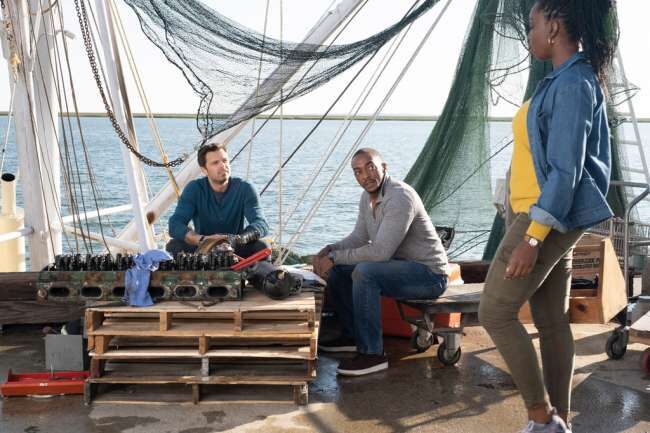 Sam and Bucky have made for a rowdy, reluctant team throughout the series, but in the first episode (¡°New World Order¡±) they didn¡¯t appear together at all. And Dillon¡¯s approach to shooting them was purposefully different. ¡°Mostly in lighting, really,¡± he shared. ¡°We would have been conscious, especially with Sam and the Louisiana stuff when he¡¯s at home with his family. With his sister and nephews. We wanted to make that very warm and inviting and a rich world, but sort of relaxed and welcoming. Whereas with Bucky we made it a lot more stark and more austere. Colder. And in terms of the framing choices, with Bucky, just make them more clinical.¡±
Even during Bucky¡¯s therapy session, from the premiere, you could feel how uncomfortable he was in that setting through close-ups of the side of his face. ¡°It was sort of as simple and obvious as us wanting to convey that we were inside his head a little bit,¡± Dillon said. ¡°We wanted it to be a little bit uncomfortable. Uncomfortable framing. Getting that close to someone¡¯s face, it¡¯s intrusive.¡±
THE CINEMATIC EXPERIENCE
As Dillon mentioned, The?Falcon and the Winter Soldier was shot using the same anthropomorphic widescreen as the MCU films, in order to preserve the look fans are familiar with from the movies. It also contains, like the films, a mix of heart-pumping action and heartfelt character moments. For Dillon though, he can¡¯t say which he prefers shooting.
¡°I like them both for different reasons,¡± he admitted. ¡°Like, the action sequences are good fun, but they¡¯re quite a technical exercise in some ways. Whereas the more personal, emotional stuff can be more rewarding, but in a different way. I certainly enjoy doing both. I¡¯d never done an aerial sequence before, so that was very interesting. We sort of had to design it from the ground up, if you¡¯ll excuse the pun, so that was a challenge. But a welcome one because it gives us the opportunity to try different things.¡±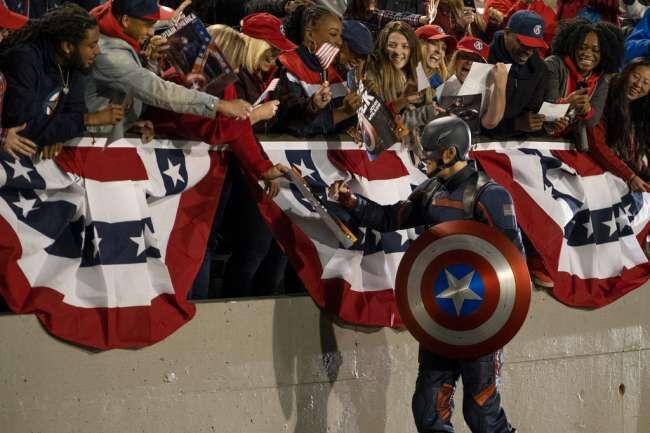 ¡°I think, for the most part, probably the biggest challenge was that we didn¡¯t quite have the budget or the schedule that the movies had. So we were trying to do things in less time with less money but still maintain a standard because we didn¡¯t want to produce something that would let the franchise down.¡±
Unsurprisingly, as many times as The Falcon and the Winter Soldier had been described ahead of time as a six-hour movie, it was shot like one too. ¡°It was treated more like an extensive feature,¡± Dillon said. ¡°Usually on a TV series you¡¯d block shoot. So you¡¯d shoot two episodes at a time and very often there are different directors and different DPs for each block. The decision was made early on that there was going to be one director and one DP and it would all be shot in the way that you¡¯d shoot a film. It was just like a really long movie.¡±
Catch the Season One finale of The Falcon and The Winter Soldier on Disney+ on Friday, April 23. For an insight into?The Falcon and the Winter Soldier and to buy some awesome Marvel merch, click here.